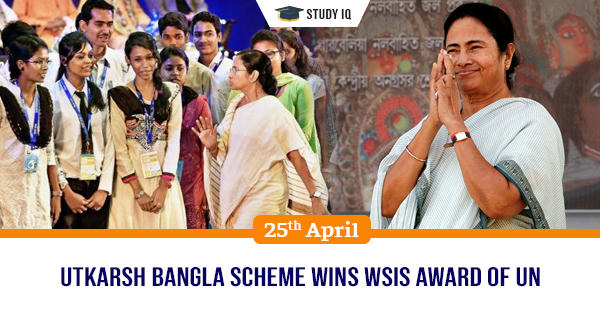 Utkarsh Bangla scheme wins WSIS award of UN
Date: 25 April 2019
Tags: Education
West Bengal Government's Utkarsh Bangla scheme has won prestigious World Summit on the Information Society (WSIS) award 2019 of United Nations (UN). This scheme had emerged No 1 in the Capacity Building category of the award.
Utkarsh Bangla scheme
It aims to create pool of skilled candidates industry ready by providing vocational training to school dropouts ranging from 400 to 1200 hours free of charge. Its beneficiaries are trained in driving, tailoring, repairing television and other electronic equipment's, beautician courses etc. On completion the vocational training courses beneficiaries are given certificates. The state Vocational Education Department is nodal implementing agency of this scheme. The syllabus for courses under this scheme are in line with the National Vocational Education Qualification Framework.
Kanyashree Scheme
Earlier, in 2017, West Bengal government had received another UN award for its 'Kanyashree' Scheme, which is a targeted conditional cash transfer scheme aimed at promoting education among girls.
WSIS Prizes
It is international contest to create effective mechanism to evaluate and recognise individuals, governments and private bodies for outstanding success in implementing development oriented strategies that leverage power of Information Communication and Technologies (ICTs) as an enabler of the development. The awards are given in 18 categories from all over the world.