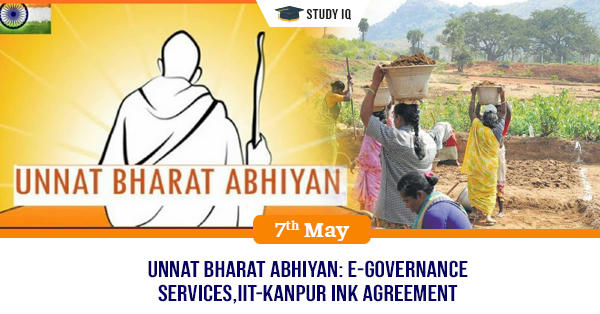 Unnat Bharat Abhiyan: e-Governance Services,IIT-Kanpur ink agreement 
Date: 07 May 2019
Tags: Education
e-Governance Services India Limited has signed agreement with Indian Institute of Technology (IIT) Kanpur to upscale Unnat Bharat Abhiyan. This partnership aims to find solutions to accelerate sustainable growth in rural India. e-Governance Services India Limited is initiative of Common Service Centre's (CSC), a special purpose vehicle (SPV) under Union Ministry of Electronics & Information Technology (MeITY).
Key Facts
Under this partnership, IIT-Kanpur has brought together 15 leading higher education institutions from Uttar Pradesh for Unnat Bharat Abhiyan. These institutions will adopt gram panchayats and equip them with all citizen centric services through CSCs. They will also train village level entrepreneurs (VLEs) who run CSCs as part of the village development plan. Besides, they will also provide skill traning to VLEs about use of solar energy, cleanliness and use of modern technologies through interventions of IIT-Kanpur.
About Unnat Bharat Abhiyan (UBA)
It is flagship programme of Ministry of Human Resource Development (HRD) that aims to enrich Rural India. Its second edition was launched in the year 2018. Under it, higher education institutions participates in development activities, particularly in rural areas.
Objectives: (i) Link higher educational institutions to work with people of rural India that they can contribute to economic and social betterment of these village communities using their knowledge base. (ii) Identify development challenges and evolving appropriate solutions for accelerating sustainable growth of rural India. (iii) Create virtuous cycle between society and inclusive academic system by providing knowledge and practices for emerging professions.