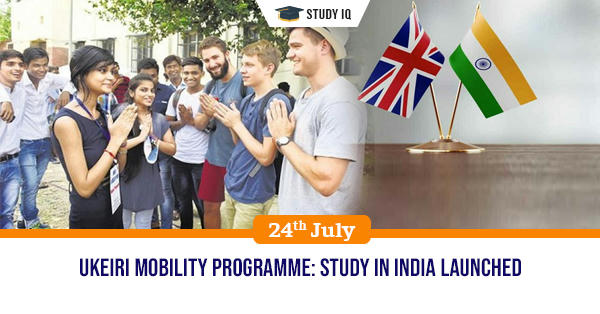 UKEIRI Mobility Programme: Study in India launched
Date: 24 July 2019
Tags: Education
New India-United Kingdom (UK) bilateral scheme named "UKEIRI Mobility Programme: Study in India" was launched on a pilot basis. Its objective is to fund students from UK to visit India and support Britain's universities to collaborate with Indian partners to send UK students to India during their studies.
About UKEIRI Mobility Programme: Study in India
It is an initiative of Universities UK International (UUKi) and British Council India. It aims to generate up to 200 opportunities for undergraduate students at UK universities to visit India by March 2021.

It will be funded by the UK and Indian governments as part of Phase 3 of UK-India Education Research Initiative (UKEIRI) and delivered by British Council India, Universities UK International (UUKI) and EdCIL in India.

It will support national and institutional-level objectives to increase the levels of outward student mobility from UK to 13

%

by 2020, as set out in UUKi's "Go International: Stand Out" campaign.

It will also support employability of UK graduates and help them prepare for globally competitive workforce as well as support internationalisation of Indian higher education through diversification of student body, and consolidation of inter-institutional partnerships.