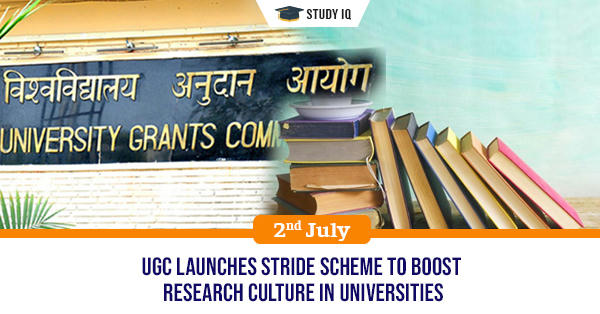 UGC launches STRIDE scheme to boost research culture in universities
Date: 02 July 2019
Tags: Education
University Grants Commission (UGC) has approved new scheme - 'Scheme for Trans-disciplinary Research for India's Developing Economy' (STRIDE) to boost research culture in universities. It aims to identify young talent, strengthen research culture, build capacity, promote innovation and support trans-disciplinary research for India's developing economy and national.
STRIDE Scheme
Objectives:

(i) Strengthen research culture and innovation in colleges and universities (ii) Help students and faculty to contribute towards India's developing economy with help of collaborative research (iii) development. (iii) Fund high impact research projects in Humanities and Social Sciences.

Implementation:

UGC has set up advisory committee under the chairmanship of Prof Bhushan Patwardhan, Vice Chairman to oversee the entire scheme.
Three components of STRIDE Scheme
Component 1:

Identify young talent and provide research capacity building in diverse disciplines by mentoring, nurturing and supporting young talents to innovate solutions for local, regional, national and global problems. This component is open to all disciplines for grant up to Rs 1 crore.

Component 2:

Enhance problem-solving skills with elp of social innovation and action research to improve well being of people and contribute to India's developing economy. It will facilate collaborations between universities, government, voluntary organisations, and industries. This component is open to all disciplines for grant up to Rs. 50 lakh to 1 crore.

Component 3:

Fund high impact research projects in field of identified thrust areas in humanities and human sciences through national network of eminent scientists from leading institutions. It is only open to specific disciplines with possible grant of up to Rs 2 lakhs to developing a proposal.
About University Grants Commission (UGC)
It is higher education regulator of India. It is statutory body established in accordance to UGC Act 1956. It functions under Union Ministry of Human Resource Development.

It is mandated with coordination, determination and maintenance of standards of higher education.

Its headquarters is in New Delhi and has six regional centres in Pune, Bhopal, Kolkata, Hyderabad, Guwahati and Bangalore.

Functions:

(i) provide recognition to universities in India (ii) oversee distribution of grants to universities and colleges in India, (iii) provide scholarships and fellowships to beneficiaries and (iv) monitor conformity to its regulations by universities and colleges.