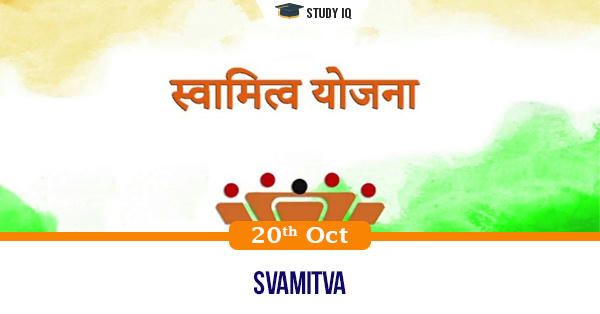 SVAMITVA
Date: 20 October 2020
Tags: Miscellaneous
Issue
On October 11, Prime Minister Narendra Modi launched the distribution of property cards under the SVAMITVA scheme through video conferencing.
Background
The government aims to provide such property cards to each household in the next three to four years in every village across the country.
Details
The acronym SVAMITVA stands for Survey of Villages and Mapping with Improvised Technology in Village Areas.

It is a Central Sector Scheme aimed at "providing 'record of rights' to village household owners possessing houses in inhabited rural areas in villages and issuance of property cards to the property owners."

The plan is to survey all rural properties using drones and prepare GIS based maps for each village.

During the current financial year, the scheme is being implemented as a pilot project in about 1 lakh villages across 8 states – Maharashtra, Karnataka, Haryana, Uttar Pradesh, Uttarakhand, Madhya Pradesh, Punjab, and Rajasthan.

The framework for implementation of SVAMITVA scheme, finalized by the Ministry of Panchayati Raj, provides a multi-stage process of generating a property card, which starts with signing of a memorandum of understanding between Survey of India (SoI) and respective state governments.

The SoI is responsible for preparing the National Topographic database on all scales, using technology for topographical mapping at various scales including the use of airborne photography drones, satellite imageries, and Unmanned Air Vehicles (UAV) or drone platforms.

Once the MOU is done, a Continuously Operating Reference System (CORS) is established. It is a network of reference stations that provide a virtual base station that allows access to long-range high-accuracy Network RTK (Real-Time Kinematic) corrections.

The next step is the identification of villages to be surveyed during the pilot phase, and make people aware of the process of mapping properties.
Benefits
It will enable rural households to use their property as a financial asset for taking loans and other financial benefits.

It will help in determination of property tax, which would accrue to the Gram Panchayats directly in states where they are empowered to collect such taxes.

The cards will help increase liquidity of land parcels in the market and increase the financial credit availability to the village.

The scheme will also pave the way for creation of accurate land records for rural planning. All the property records and maps will be available at Gram Panchayat, which will help in taxation of villages, construction permits, elimination of encroachments, etc.

The property maps will be made using the GIS technique and the same can also be used for better-quality Gram Panchayat Development Plan (GPDP).