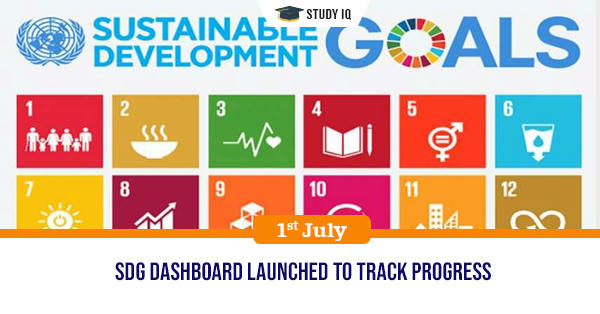 SDG Dashboard launched to track progress
Date: 01 July 2019
Tags: Polity & Governance
Union Ministry of Statistics and Programme Implementation (MoSPI) has launched Sustainable Development Goals (SDG) dashboard to track India's progress on the Agenda 2030 adopted by United Nations (UN). It was launched on the occasion of National Statistics Day (observed on June 29 to celebrate birth anniversary of Prof. P C Mahalanobis).
SDG dashboard
It is India's official data repository of National Indicator Framework on SDGs, the country's largest monitoring framework with 306 statistical indicators.

It has been developed in partnership with United Nations in India, DFID India and data intelligence firm Social Cops.

It is a first of its kind national platform that pulls together reliable data from over 100 different data sets, portals and sectors.

Features:

It is unique, searchable platform that provides data and insights on how the country is progressing on the SDGs. It also allows state governments to track their performance on each goal, compare it to other states and identify priority areas, which need urgent action.
Sustainable Development Goals
Officially called as 2030 Agenda for Sustainable Development was adopted by all United Nations Member States in 2015. It provides shared blueprint for peace and prosperity for people and the planet, now and into the future.

It proposes 17 Sustainable Development Goals (further divided in 169 targets) as urgent call for action by all countries - developed and developing - in global partnership to end poverty, protect planet, improve health, education and ensuring that all people enjoy peace and prosperity by 2030.

India and SDG:

SDGs are a national priority for India and Union Government has committed to achieving these goals for all sections of the population by 2030. India's progress in SDGs is crucial, as the country is home to about 17

%

of the world population. India has been closely monitoring its progress on SDGs through its National Indicator Framework and India SDG Index released in 2018.