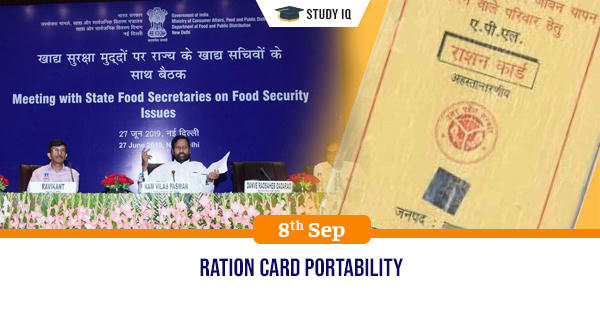 Ration card portability
Date: 08 September 2019
Tags: Miscellaneous
Issue
The Centre is in the process of expanding PDS benefits nationally called the 'One Nation One Ration Card' scheme. It is scheduled to come into full effect by June 2020.
Background
India runs the world's largest food security programme, distributing more than 600 lakh tonnes of subsidised food grain to more than 81 crore beneficiaries every year. This is done through a vast network of more than five lakh ration or fair price shops.
Details
Under the new scheme, the ration card holder can buy subsidised grain at any fair price shop in the country regardless of his origin state.

This current PDS has been a location-linked benefit, leaving crores of migrant workers and families out of the food safety net.

Each household's ration card is linked to a specific fair price shop and can only be used to buy rations in that particular shop.

Over last few years, 10 States (partially in one) have implemented the Integrated Management of Public Distribution System, which allows beneficiaries to buy rations from any fair price shop within that State.

The steps taken by centre is an extension of this Integrated Management of PDS.
Benefits
The main beneficiaries of the scheme are the country's migrant workers. Registering for ration cards at their new location is difficult process, especially if some members of the household still remain in their original home. This scheme removes need for ration card portability.

Women who change locations after marriage also find it difficult to start accessing ration benefits using a new household's card.This scheme works for their benefits.

Allowing ration card portability will also curb corruption and improve access and service quality by removing monopolies.

Under the new system, if they are denied service or face corruption or poor quality in one shop, they are free to head to a different shop.
Drawbacks of Digital PDS
There have been widespread complaints of denial of food due to system failures.

Aadhaar seeding is also important as the unique biometric ID will be used to authenticate and track the usage of ration by beneficiaries anywhere in the country. Failure in seeding can lead to loss of benefits.

There are no data available on short term migration. This can create shortages or excesses if migrant population changes quickly.