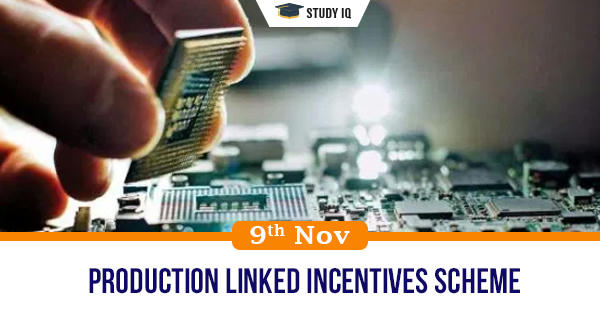 Production Linked Incentives scheme
Date: 09 November 2020
Tags: Commerce & Industry
Issue
In order to boost domestic manufacturing and cut down on import bills, the central government in March this year introduced a scheme that aims to give companies incentives on incremental sales from products manufactured in domestic units.
Background
Apart from cutting down on imports, the PLI scheme also looks to capture the growing demand in the domestic market.
Details
The government aims to expand the ambit of the scheme to include as many as ten more sectors such as food processing and textiles other than the already included mobile phones, allied equipment, pharmaceutical ingredients, and medical devices.

Apart from inviting foreign companies to set business in India, the scheme also aims to encourage local companies to set up or expand existing manufacturing units.

So far, the scheme has been rolled out for mobile and allied equipment as well as pharmaceutical ingredients and medical devices manufacturing.

These sectors are labour intensive and are likely, and the hope is that they would create new jobs for the employable workforce of India.

The idea of PLI is important as the government cannot continue making investments in these capital intensive sectors as they need longer times for start giving the returns.

The government will pay the companies it selects for the scheme a specific proportion of their turnover from making and selling the bulk drugs or medical devices as an incentive over the next few years. The amount of the incentive would decrease as the years go by.
Highlights
The PLI scheme is available to all companies registered in India which meet the threshold requirement of a specified incremental investment (between ?100 crore and ?1,000 crore) in the next four years as well as incremental sales of manufactured goods.

A maximum of five domestic and five global mobile manufacturing companies and 10 electronic component manufacturers will be selected from the applications received by the Government.

In case more applications are received, then companies having the highest consolidated global manufacturing revenues will be considered.

The scheme also provides that an Empowered Committee (EC) will be constituted which has the power to review and revise rate of incentives, ceilings, eligibility criteria, etc.