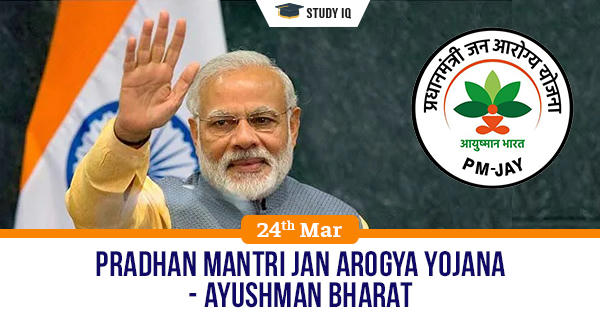 Pradhan Mantri Jan Arogya Yojana- Ayushman Bharat
Date: 24 March 2020
Tags: Health
Issue
The Delhi government has said it would implement the Ayushman Bharat - Pradhan Mantri Jan Arogya Yojana in Delhi from fiscal 2020-21.
Background
The scheme has been a bone of contention between the Delhi and central governments. The state government had asked the National Health Authority to rename the scheme to Mukhya Mantri Aam Aadmi Swasthya Bima Yojana.
Details
PM-JAY
Ayushman Bharat - Pradhan Mantri Jan Arogya Yojana (AB-PMJAY) is a Centrally Sponsored Scheme having central sector component under Ayushman Bharat Mission anchored in the Ministry of Health and Family Welfare (MoHFW).

PM-JAY is the world's largest government funded healthcare program targeting more than 50 crore beneficiaries. Ayushman Bharat- Pradhan Mantri Jan ArogyaYojana (PMJAY) will provide a cover of up to Rs. 5 lakhs per family per year, for secondary and tertiary care hospitalization.

PMJAY will provide cashless and paperless access to services for the beneficiary at the point of service.

It will provide Universal Healthcare through access of Health and Wellness Centers (HWCs) at the primary level and provision of financial protection for accessing curative care at the secondary and tertiary levels through engagement with both public and private sector.

PMJAY primarily targets the poor, deprived rural families and identified occupational category of urban workers' families as per the latest Socio-Economic Caste Census (SECC) data for both rural and urban areas as well as the active families under the RashtriyaSwasthyaBimaYojana (RSBY).

The Yojana will provide a coverage up to Rs. 5,00,000 per family per year, for secondary and tertiary care hospitalization through a network of Empanelled Health Care Providers (EHCP).

Benefits of the scheme are portable across the country and a beneficiary covered under the scheme will be allowed to take cashless benefits from any public/private empanelled hospitals across the country.

States can implement the Scheme through an insurance company or directly through the Trust/Society/Implementation Support Agency or a mixed approach.

The scheme is creating a cadre of certified frontline health service professionals called Pradhan MantriAarogyaMitras (PMAMs) who will be primary point of facilitation for the beneficiaries to avail treatment at the hospital and thus, act as a support system to streamline health service delivery.