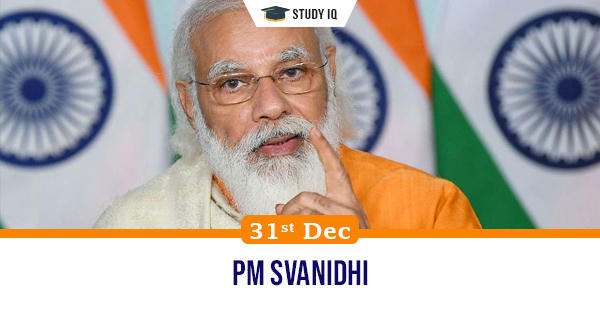 PM SVANidhi
Date: 31 December 2020
Tags: Miscellaneous
Issue
The government has been making efforts to increase the ambit of PM SVANidhi scheme, which aims to secure livelihood of street vendors.
Details
The PM Street Vendor's AtmaNirbhar Nidhi (PM SVANidhi) scheme is a micro-credit facility that provides street vendors a collateral-free loan of Rs 10,000 with low rates of interest for a period of one year.

A vendor, according to the scheme guidelines is any person engaged in vending of articles, goods, wares, food items or merchandise of daily use or offering services to the public in a street, footpath, pavement etc., from a temporary built up structure or by moving from place to place.
Objectives of the scheme
The scheme aims at aiding the street vendors, who were affected by the pandemic, at getting back on their feet financially.

In the long term, it aims at establishing a credit score for the vendors as well as creating a digital record of their socio-economic status, so that they can avail the Central government schemes later.

The scheme also attempts to formalise the informal sector of the economy and provide them safety nets and a means of availing loans in the future.
Importance
Many vendors belong to the informal economy, and often borrow from private lenders which charge them exorbitant rates of interest.

This loan charges below 12% rate of interest, and creates a credit score of the vendors, so that if they repay the loan on time, they can avail more.

Moreover, by creating a digital record of them and their socio-economic profile, it will help them avail various other 8-9 central government schemes which provide a form of a safety net, helping in their poverty alleviation.
Eligibility
All vendors who have been vending from or before March 24, 2020 and with a certificate of vending can avail the loan.

As per the Street Vendors Act of 2014, the Town Vending Committees (which comprises the local authorities and vendors from an area) issue a certificate of vending after a survey has been conducted of all the vendors.

The documents, including the identification proof, are uploaded on a special portal made for the scheme, and the loans are sanctioned by banks and disbursed, ideally, in 10-15 days.
Benefits
Vendors can avail a working capital loan of up to Rs. 10,000, which is repayable in monthly instalments in the tenure of one year.

On timely/ early repayment of the loan, an interest subsidy @ 7% per annum will be credited to the bank accounts of beneficiaries through Direct Benefit Transfer on quarterly basis.

There will be no penalty on early repayment of loan.

The scheme promotes digital transactions through cash back incentives up to an amount of Rs. 100 per month.

The vendors can avail the facility of escalation of the credit limit on timely/ early repayment of loan.
Challenges in implementation
States across the country have unevenly implemented the Street Vendors Act of 2014, which necessitates a survey of the vendors to provide them with a certificate of vending.

Some municipalities are also slow in issuing LORs, which has kept hundreds of vendors waiting for the loan for months or even getting denied.

A second issue was that mobile numbers of various vendors were not linked with their Aadhar cards. To address this, various ULBs have now set up camps.
Current status
Currently, Hyderabad has seen the highest number of applications and disbursement rates. Bengaluru, Mumbai, Chennai, Delhi, and Kolkata are ranked next in the order.

Telangana, Andhra Pradesh, Uttar Pradesh, and Madhya Pradesh are among the better performing states, which have also provided certificates of vending either before the pandemic or in the past few months.