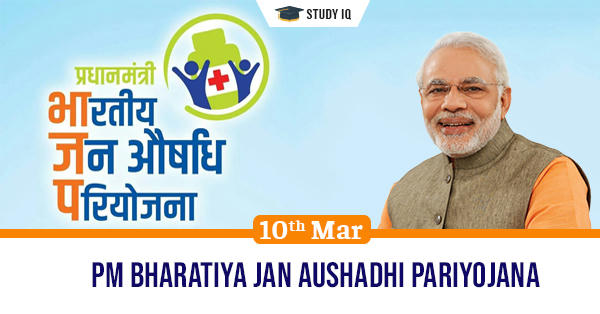 PM Bharatiya Jan Aushadhi Pariyojana
Date: 10 March 2021
Tags: Health
Issue
Prime Minister Modi has inaugurated a new Jan Aushadhi Kendra in Meghalaya and emphasised its importance on lives of people.
Details
The scheme aims to provide quality medicines at affordable prices to poor sections of the society. These medicines include generic varieties.

It tries to bring down health care budget of every individual by providing them access to generic medicines that have same efficacy but cheaper than conventional ones.

The scheme is implemented by Bureau of Pharma PSUs of India (BPPI). BBPI comes under control of Department of Pharmaceuticals, Ministry of Chemicals and Fertilizers.

State governments, pharmacists, NGOs, charitable hospitals, state governments, private hospitals etc are eligible to apply for setting up Jan Aushadhi Kendras.
Mission
Creating awareness regarding generic medicines

Assuring public that quality need not be synonymous with prices.

Creating demand for generic medicines through medicinal practitioners.
Significance
Poor sections will not be burdened by higher cost of life saving drugs.

Generic companies can expand their business and turn profitable.

Families no longer will face heath related poverty as important components will be available at lower prices.