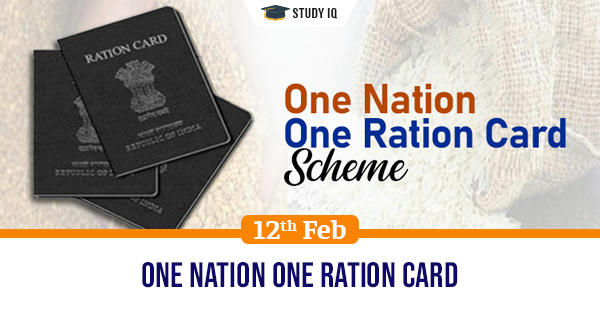 One Nation One Ration Card
Date: 12 February 2021
Tags: Miscellaneous
Issue
Finance Minister Nirmala Sitharaman has announced that One Nation, One Ration Card' scheme of the Union Government is being implemented by 32 States and Union Territories, reaching about 69 crore beneficiaries.
Background
The Ministry of Consumer Affairs had announced One Nation One Ration Card scheme that was to be implemented across different states.
Details
Under the One Nation, One ration' card scheme, beneficiaries can claim their rations anywhere in the country. This system will enable migrant workers and their family members to access PDS benefits from any Fair Price Shop in the country.

Migrant workers in particular benefit from this scheme, especially those staying away from their families can partially claim their rations where they are stationed, while their family in their native places can claim the rest.

In the present system, a ration cardholder can buy foodgrains only from an FPS that has been assigned to her in the locality in which she lives.

The new system will identify a beneficiary through biometric authentication on electronic Point of Sale (ePoS) devices installed at the FPSs, and enable that person to purchase the quantity of foodgrains to which she is entitled under the NFSA.
Working of the system
Ration card portability is aimed at providing intra-state as well as inter-state portability of ration cards.

The Integrated Management of Public Distribution System (IM-PDS) portal provides the technological platform for the inter-state portability of ration cards, enabling a migrant worker to buy foodgrains from any FPS across the country.

The other portal hosts the data of distribution of foodgrains through E-PoS devices within the borders of a state.

The Annavitran portal enables a migrant worker or his family to avail the benefits of PDS outside their district but within their state.
Need for reforms
The PDS system was marred with inefficiency leading to leakages in the system. To plug the leakages and make the system better, the government started the reform process.

It uses a technological solution involving the use of Aadhaar to identify beneficiaries. Under the scheme, the seeding of ration cards with Aadhaar is being done.