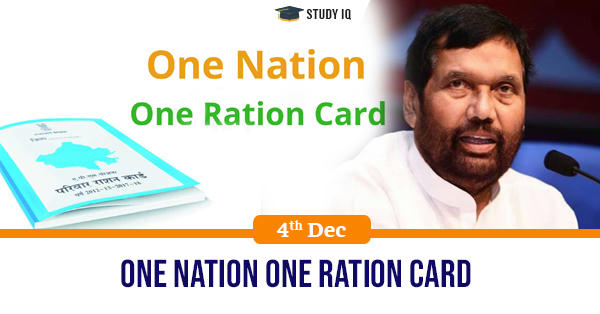 One Nation One Ration Card
Date: 04 December 2019
Tags: Miscellaneous
Issue
Union Minister for Consumer affairs, Ram Vilas Paswan has said that the One Nation one Ration Card scheme will come into effect from June 2020.
Background
The central and state governments coordinate this complex public distribution system. While the Centre allocates and transports the foodgrain from Food Corporation of India godowns to the ration shops, the onus of ensuring that right beneficiaries get the subsidised foodgrain falls on the states and Union territories

Details
Under the initiative, eligible beneficiaries would be able to avail their entitled food grains under the National Food Security Act from any Fair Price Shop (FPS) in the country using the same ration card.

This would be made available after biometric/Aadhaar authentication on ePoS (electronic Point of Sale) devices.

This system would largely benefit the numerous migrant beneficiaries such as labourers, daily wagers, blue-collar workers etc. who frequently change their place of dwelling in search of employment or for other reasons across the country.

One Nation One Ration Card would offer public distribution system benefits from any of the ration shops with the help of a single digital card linked to the beneficiary's Aadhaar.
Challenges
All fair price shops would need ePoS devices for seamless biometric authentication.

Getting the current location of the migrant worker to avoid duplication.

The other challenge is ending duplication of ration cards, whereby a beneficiary is denied foodgrain since someone else took away the quota using a fake card.

The government will have to make fresh estimates for foodgrain required to meet the demand due to seasonal migration and fluctuation in demand based on movement of labourers.
Way Ahead
There is no logic in giving foodgrain under PDS to food-surplus and infrastructurallybetter-off states such as Punjab and Haryana. It is time the government shifts to direct benefit transfer in such regions.