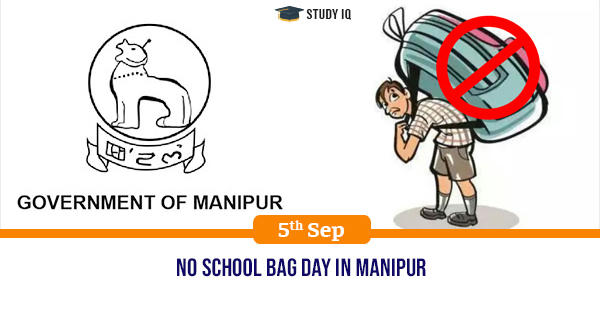 No school Bag Day in Manipur
Date: 05 September 2019
Tags: Education
Issue
The Manipur government has declared all working Saturdays as "No School Bag Day" for students from class I to VIII.
Background
Students in primary schools are found to be always engaged with routine works related to school curriculum, additional homework assignments thereby finding hard to find any quality time for life skill activities including games and sports, extra co-curricular activities etc which can help in their holistic personality development and growth.
Details
On this day, students will not carry school bags and institutions will ensure taking up extra co-curricular activities, games and sports, recreational activities.

Focus will be given more on the areas for providing a holistic development of the students by reducing excessive stress and by making school a more conducive and joyful place.

The excessive bag weight could lead to serious health issues, sometimes as serious as permanent stoop, poor lung functioning, breathing difficulties and even spinal impairment.
Possible Drawbacks
In the absence of proper implementation of the programme, the very purpose of the idea is defeated.

In a few schools in rural areas, parents may complain that their wards are not being taught lessons as teachers 'waste' time in games and other activities

Private schools 'propagate' that children are not taught lessons but are only made to play in government and municipal schools. This creates a wrong impression regarding government schools.