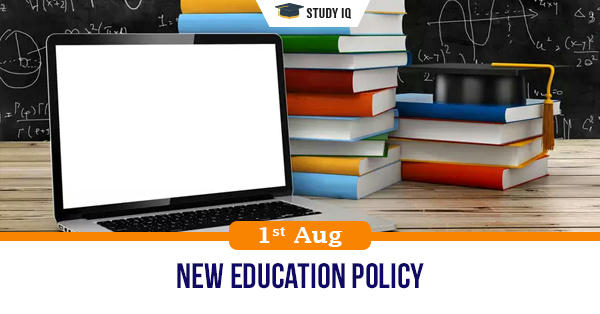 New Education Policy
Date: 01 August 2020
Tags: Education
Issue
The Union Cabinet approved the policy that aims to overhaul the country's education system. The policy is named New Education Policy (NEP).
Background
The draft was prepared by a panel of experts led by former Indian Space Research Organisation (ISRO) chief K Kasturirangan. The NEP 2020 aims at making India a global knowledge superpower.
Details
Use of schools/ school complexes beyond school hours and public library spaces for adult education courses which will be ICT-equipped when possible and for other community engagement and enrichment activities.

A sampling of important vocational crafts, such as carpentry, electric work, metalwork, gardening, pottery making, etc., as decided by States and local communities during Grades 6-8.

By 2025, at least 50% of learners through the school, and higher education system shall have exposure to vocational education.

Internship opportunities to learn vocational subjects to students throughout Grades 6-12, including holiday periods. Vocational courses through online mode will also be made available.

State Governments may encourage opening NCC wings in their secondary and higher secondary schools, including those located in tribal-dominated areas.

A new and comprehensive National Curriculum Framework for Teacher Education, NCFTE 2021, will be formulated by the NCTE in consultation with NCERT. By 2030, the minimum degree qualification for teaching will be a 4-year integrated B.Ed. degree.

Higher Education Commission of India (HECI) will be set up as a single overarching umbrella body for entire higher education, excluding medical and legal education.

HECI to have four independent verticals - National Higher Education Regulatory Council (NHERC) for regulation, General Education Council (GEC ) for standard-setting, Higher Education Grants Council (HEGC) for funding, and National Accreditation Council( NAC) for accreditation.

The three-language learned by children will be the choices of States, regions, and of the students, so long as at least two of the three languages are native to India.

Wherever possible, the medium of instruction until at least Grade 5, but preferably till Grade 8 and beyond, will be the home language/mother-tongue/local language/regional language.

The National Testing Agency (NTA) will offer a high-quality common aptitude test, as well as specialized common subject exams in the sciences, humanities, languages, arts, and vocational subjects, at least twice every year for university entrance exams.

Setting up of an Indian Institute of Translation and Interpretation (IITI) while also laying significant emphasis on Sanskrit and other Indian languages.