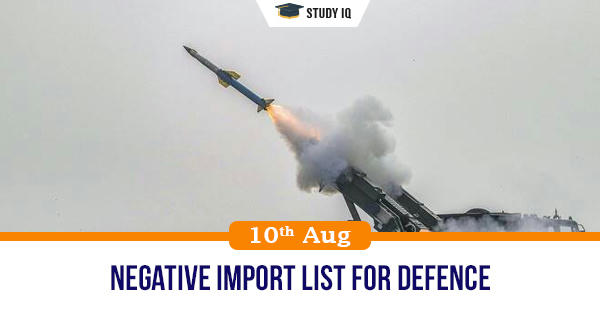 Negative import list for defence
Date: 10 August 2020
Tags: Miscellaneous
Issue
Defence Minister Rajnath Singh has announced a list of 101 items that the Defence Ministry will stop importing. It essentially means that the Armed Forces—Army, Navy and Air Force—will only procure all of these 101 items from domestic manufacturers.
Background
India has been the second-largest importer between 2014 and 2019 with US$ 16.75 billion worth of imports during this period.
Details
For years India has been among the top three defence importers in the world, the government wants to reduce the dependence on imported items in defence and give a shot in the arm to the domestic defence manufacturing industry.

By denying the possibility of importing the items on the negative list, the domestic industry is given the opportunity to step up and manufacture them for the needs of the forces.

The items mentioned in the negative imports list include water jet fast attack craft to survey vessels, pollution control vessels, light transport aircraft, GSAT-6 terminals, radars, unmanned aerial vehicles, to certain rifles, artillery guns, bulletproof jackets, missile destroyers, etc.

The government announced that the list was announced after due consideration by all stakeholders involved, including the three services who use the equipment, weapons and platforms that will be embargoed.

The embargo on imports is planned to be progressively implemented between 2020 to 2024 and the government wants to apprise the Indian defence industry about the anticipated requirements of the Armed Forces so that they are better prepared to realise the goal of indigenisation.

The announcement was not unexpected as the government had already declared that it will come out with a negative imports list for the defence sector in May.