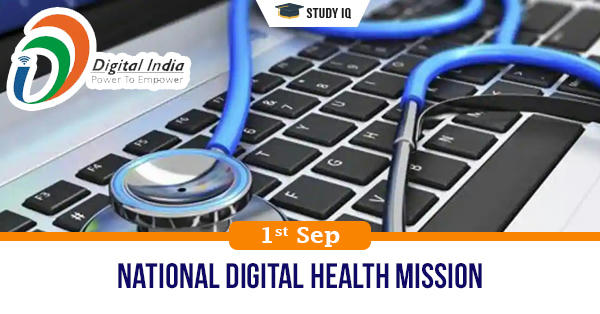 National Digital Health Mission
Date: 01 September 2020
Tags: Health
Issue
The National Digital Health Mission (NDHM) has been launched at a time when the country is reeling under the impact of the COVID-19 pandemic.
Background
Based on the principles of health for all, inclusivity, accessibility, affordability, education, empowerment, wellness, portability, privacy and security by design, the NDHM will build the backbone necessary to create an integrated digital health infrastructure.
Details
Under the aegis of the health card, a person's medical history, doctor consultations, diagnosis, and prescribed treatment will be saved in a digital database. Hospitals, clinics, and doctors will be linked to a central server.

The NDHM is a voluntary scheme — HealthID is entirely voluntary for citizens. Citizens can choose to generate their Health Account or ID using their Aadhaar card or digitally authenticable mobile number and by using their basic address-related details and email ID.

Providing access to and sharing of personal health records is a prerogative of the HealthID holder. The information can be shared for a period ranging from one hour to unlimited duration. The consent can be withdrawn anytime.

Third, NDHM has been built within a universe of fundamental rights and pieces of legislation such as the Aadhaar Act and the IT Act 2008 as well as the Personal Data Protection Bill 2019.

There will be specialised systems and offline modules that will be designed to reach out to the 'unconnected', marginalised, digitally illiterate, remote, hilly, and tribal populations.

The design of NDHM has been built on the principle of partnership with all key stakeholders like doctors, health service providers, technology solution providers, and above all citizens.

As the medical reports would be saved digitally, the card holder would not have to carry physical reports while changing cities or even consulting another doctor.

With first-hand case history available at the click of the button, hospitals and doctors will be able to diagnose and treat patients better.

Insurance companies will be able to make better health risk assessment based on health records of the insurance applicant, assuming that third-parties such as insurers will be allowed limited access to individual medical records, with adequate built-in safeguards.