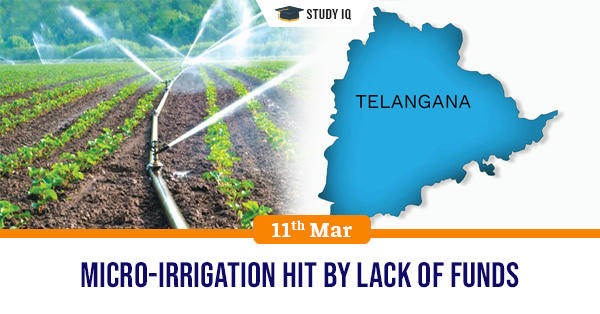 Micro-irrigation hit by lack of funds
Date: 11 March 2020
Tags: Miscellaneous
Issue
The prevailing economic slowdown appears to have affected the implementation of the projects to provide drip and sprinkler implements to farmers in state of Telangana.
Background
For providing the drip and sprinkler implements to the targeted extent of land, an amount of ?669 crore is required, including ?270 crore contribution of the Centre and about ?400 crore share of the State.
Details
Micro-irrigation
Drip irrigation is a type of micro-irrigation system that has the potential to save water and nutrients by allowing water to drip slowly to the roots of plants, either from above the soil surface or buried below the surface.

The goal is to place water directly into the root zone and minimize evaporation. Drip irrigation systems distribute water through a network of valves, pipes, tubing, and emitters.

Depending on how well designed, installed, maintained, and operated it is, a drip irrigation system can be more efficient than other types of irrigation systems, such as surface irrigation or sprinkler irrigation.
Advantages
Fertilizer and nutrient loss is minimized due to a localized application and reduced leaching.

Water application efficiency is high if managed correctly.

Field leveling is not necessary.

Fields with irregular shapes are easily accommodated.

Recycled non-potable water can be safely used.

Moisture within the root zone can be maintained at field capacity.

Soil erosion is lessened.

Weed growth is lessened.

Water distribution is highly uniform, controlled by the output of each nozzle.

Labour cost is less than other irrigation methods.
Disadvantages
Initial cost can be more than overhead systems.

The sun can affect the tubes used for drip irrigation, shortening their lifespan.

If the water is not properly filtered and the equipment not properly maintained, it can result in clogging or bioclogging.

Drip tape causes extra cleanup costs after harvest. Users need to plan for drip tape winding, disposal, recycling or reuse.

In lighter soils subsurface drip may be unable to wet the soil surface for germination. Requires careful consideration of the installation depth.

The PVC pipes often suffer from rodent damage, requiring replacement of the entire tube and increasing expenses.