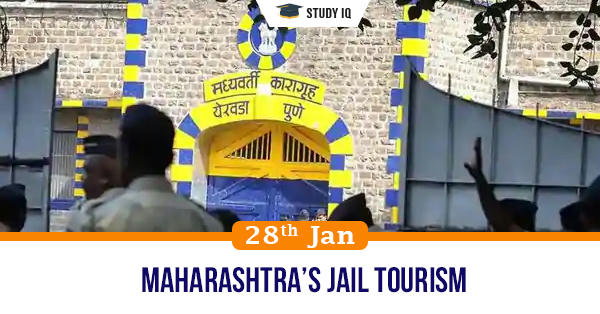 Maharashtra's jail tourism
Date: 28 January 2021
Tags: Miscellaneous
Issue
The Prison Department of Maharashtra launched its jail tourism initiative starting from the 150-year-old Yerawada Central Prison in Pune.
Details
Many of the prisons in Maharashtra housed leaders of the independence struggle and countless freedom fighters.

Yerawada Central Prison is the largest jail in Maharashtra and one of the largest maximum security prisons in the country.

In Maharashtra, there are 16 functioning prisons that were built in the 19th century, the oldest being Byculla District Prison in Mumbai which started in 1840.

Along with the Yerawada Prison —Thane, Nashik, Dhule, and Ratnagiri jails —will be added to jail tourism initiative in subsequent phases.
Historical importance
Mahatma Gandhi was imprisoned at Yerawada jail three times. Lokmanya Bal Gangadhar Tilak, Pandit Motilal Nehru, Pandit Jawaharlal Nehru, Sardar Vallabhbhai Patel, Sarojini Naidu, and Subhas Chandra Bose were also imprisoned.

The cell where Mahatma Gandhi was lodged is called the Gandhi Yard, which is also the place where the historic Poona Pact between Gandhi and Dr. Babasaheb Ambedkar was signed.
Poona pact
The Poona Pact was an agreement between Mahatma Gandhi and Dr. Ambedkar on behalf of depressed classes and upper caste Hindu leaders on the reservation of electoral seats for the depressed classes in the legislature of British India.

It was signed by Ambedkar on behalf of the depressed classes and by Madan Mohan Malviya on behalf of the upper caste Hindus and Gandhi as a means to end the fast undertaken by Gandhiji.

Gandhiji was fasting in jail as a protest against the decision made by British Prime Minister Ramsay MacDonald to give separate electorates to depressed classes for the election of members of provincial legislative assemblies.
Communal award
The Communal Award was made by the British prime minister after Round Table Conference (1930–32) and extended the separate electorate to depressed Classes (now known as the Scheduled Caste) and other minorities.

The separate electorate was introduced in [Indian council Act 1909] for Muslims and extended to Sikhs, Indian Christians, Anglo-Indians, and Europeans by Government of India Act 1919.

The Award favoured the minorities over the Hindus causing disappointment and eliciting anger from Gandhi.

The Award was controversial as it was believed by some to have been brought in by the British to create social divide among the Hindus. Gandhi feared that it would disintegrate Hindu society.