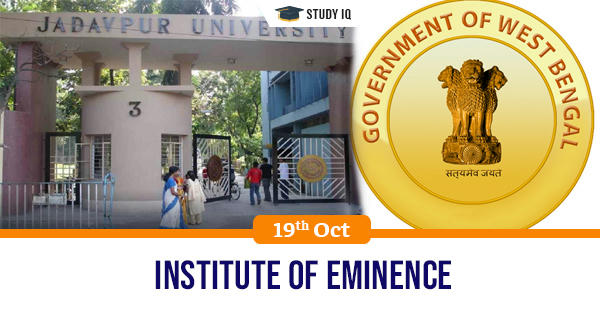 Institute of Emminence
Date: 19 October 2019
Tags: Education
Issue
Kolkata's Jadavpur University (JU) is set to lose out on 'Institution of Eminence' (IoE) status as the West Bengal government has expressed its inability to commit Rs 2,000 crore under the scheme.
Background
The HRD Ministry had awarded IoE status to five public-funded institutions , IIT-Madras, BHU, IIT-Kharagpur, DU and University of Hyderabad , which would get up to Rs 1,000 crore for expansion. However, JU and Anna University's IoE tag, despite the UGC's recommendation, was put on hold.
Details
The Institute of Eminence scheme aimed at developing 20 world-class institutions which would put India on the global education map.

Those selected will be given greater autonomy and freedom to decide fees, course durations and governance structures.

The public institutions will also receive a government grant of ?1,000 crore, while the private institutions will not get any funding under the scheme.

The Gopalaswami panel initially recommended 11 institutions for the tag in July 2018. The Centre had then accepted six recommendations , IITs Delhi and Bombay, IISc Bangalore, BITS Pilani, Manipal University, and the yet-to-open Jio University.
Criteria
Public institutions are assessed on the basis of QS-2020 world rankings, in case of a tie, QS- 2019 rankings are used.

Private institutions are assessed on the basis of their ranking in the QS India or National Institution Ranking Framework (NIRF), the NIRF ranking being used as a tie-breaker.

Any institution that did not appear in any rankings (QS-2019, QS-2020 and NIRF) is excluded completely from the list of IOE tag.
Purpose of IoE scheme
The first purpose of the IoE scheme is to take existing universities to global competitive status, and so we must consider their existing rankings.

The other purpose is the need to get investment to build up world class institutions.