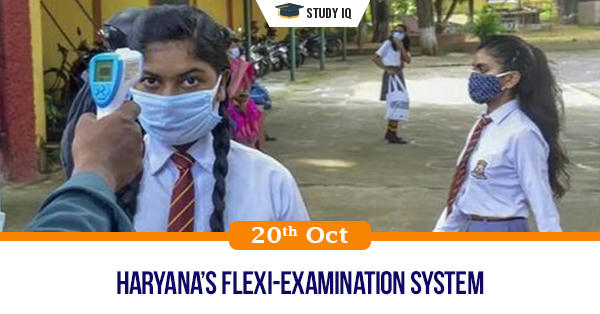 Haryana's flexi-examination system
Date: 20 October 2020
Tags: Miscellaneous
Issue
Considering that the disruption in studies may continue for an uncertain period, Haryana State Higher Education Council has come out with a "flexi-examination system".
Background
The disruption in the education system in the country due to the Covid-19 pandemic has necessitated several education reforms to be put on fast track. One important dimension of the education system is examinations.
Details
To begin with, at least seven out of the 17 government-aided universities of Haryana have agreed to introduce the system that will impact thousands of students of post-graduation courses.

Gradually, the system will be adopted by all the 17 universities in post-graduation courses, followed by professional courses.

If the results are encouraging, then the flexi-examination system will also be introduced to the graduation courses.

As the name suggests, the examination schedule shall be flexible for the students. There are two dimensions to this system.

One, it provides a second chance to weaker students to clear their exams more easily.

As of now, those students who are not able to pass their regular examination in the first attempt, have to wait for six months or a year to sit for re-examination, depending on the regulations in force in their universities.

If the student is in the final year, he/she has to wait for a full year for the re-examination. As a result, his/her further studies as well as employment opportunities get impacted.

With the flexi-examination system, a student who gets a compartment or wants to re-appear in one, two, or more papers can ask the university for a suitable time when he/she is ready for the re-examination.

The university will give the student an opportunity at a mutually convenient time and date to take the re-examination.

Under the flexi-examination system, universities shall keep a comprehensive question bank ready. When a student wants to sit for an examination, either physically or in online mode, a randomised question paper will be generated.

The first aim is to cover the post-graduation courses, then the professional courses like engineering, medical, and others, and, depending upon the success of the project, this system will also be gradually implemented in graduation courses.