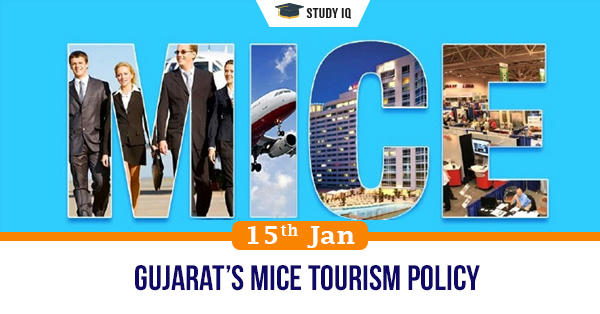 Gujarat's MICE tourism policy
Date: 15 January 2021
Tags: Miscellaneous
Issue
Gujarat Chief Minister has announced the tourism policy for 2021-25, seeking to position the state as the country's foremost tourist destination through MICE tourism.
Details
The acronym "MICE" stands for "Meetings, Incentives, Conferences, and Exhibitions", and is essentially a version of business tourism that draws domestic and international tourists to a destination.

To incentivise international events, the government has announced an assistance of Rs 5,000 to the event organiser per foreign participant staying overnight, subject to an upper limit of Rs 5 lakh.

For domestic events, the policy promises financial assistance of Rs 2 lakh per event, capped at three events per organiser per year.

The policy promises special incentives for building big convention centres, including 15% capital subsidy on the eligible capital investment.

The government has also promised land on lease. A precondition to avail the incentive is that the convention centre should have at least one hall that can seat a minimum of 2,500 persons.
Tourism destinations promoted
Statue of Unity (World's tallest statue)

Gir (Home of Asiatic lion)

Ahmedabad (UNESCO heritage city)

Lothal (India's first port city)

Dholavira (Indus civilisation city)

Shivrajpur (blue-flag beach)

Seaplane service from the Sabarmati Riverfront in Ahmedabad to the Statue of Unity in Kevadia.