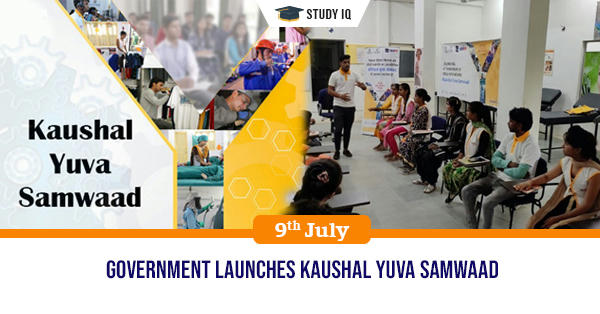 Government launches Kaushal Yuva Samwaad
Date: 09 July 2019
Tags: Education
Union Ministry of Skill Development and Entrepreneurship (MoSDE) launched of 'Kaushal Yuva Samwaad' aimed at creating an open dialogue with youth across all skill training centres to hear their ideas and recommendations to help scale up existing programmes. It will be organised between July 8 and July 10, 2019 across all Skill India training centres to commemorate World youth Skills Day (observed on July 15) and celebrate the 4th Anniversary of the Skill India Mission,
Kaushal Yuva Samvaad
Objective:

Create a dialogue between the youth and the Ministry which is intended to identify and remedy the gaps so that all the skill development programs are properly aligned to the current demands and help in creating a skilled workforce for the future.

Features:

It will be the platform to discuss potential issues and solutions from the candidates' perspective. It will also give MoSDE perspective to match aspirations of youth with offerings of Skill India.

Participating Centres:

It will be organised across all Skill India training centres, namely, Pradhan Mantri Kaushal Kendras, Industrial Training Institutes, Polytechnics, and other fee-based training centres across the country, an official statement said.

Each training centre is mandated to invite minimum of 20 candidates to participate in Kaushal Yuva Samwaad. After the dialogue, recommendations will be submitted to the ministry through a portal.