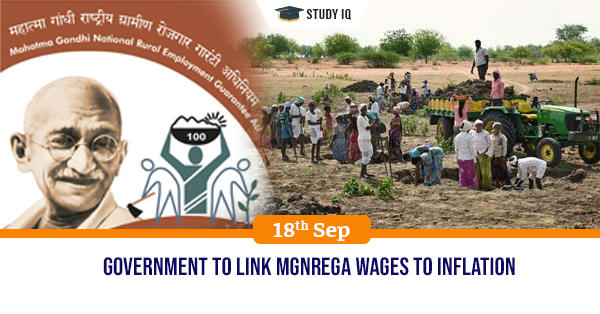 Government to link MGNREGA wages to inflation
Date: 18 September 2019
Tags: Miscellaneous
Issue
The Centre plans to inject more money into the Mahatma Gandhi National Rural Employment Guarantee Act (MGNREGA) scheme by linking wages under the Act to an updated inflation index, which will be revised annually.
Background
The government has observed a slump in rural demand and a slowdown in the rural economy.
Droughts and floods in several states have led to an increased demand for work in the early part of the year and the economic slowdown could spur demand after planting season is over.
Details
The national average wage of an MGNREGA worker is ?178.44 per day, less than half of the ?375 per day minimum wage recommended by a Labour Ministry.

The consumption basket of CPI-AL ,which determines MGNREGA wage revisions has not been updated for more than three decades, and rural consumption patterns have changed drastically.

The government is planning to update the indices annually. MGNREGA wages will be linked to higher index in a particular State.

Estimation of the increased wages based on updated inflation indices may result in 10% higher government expenditure on the scheme.
Implications
If transferring expenditure via MGNREGA is done, rural wages could increase and that could percolate down into more purchasing power in the hands of the consumer.