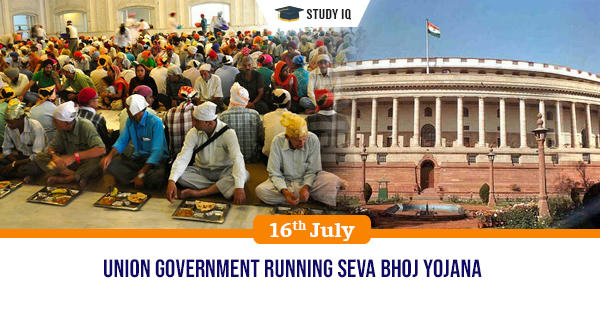 Union Government running Seva Bhoj Yojana
Date: 16 July 2019
Tags: Polity & Governance
Union Minister of State (I/c) of Culture and Tourism Prahlad Singh Patel in a written reply in the Lok Sabha has notified that Union Government is running Seva Bhoj Yojana for providing assistance to charitable religious institutions for serving free food to public.
About Seva Bhoj Yojana
It is Central Sector Scheme for providing reimbursement of Central Goods and Services Tax (CGST) and Central Government's share of Integrated GST (IGST) paid by charitable/religious institutions on purchase of specific raw food items for serving free food to public or devotees.

Objective:

It aims at providing assistance to charitable religious institutions providing food, prasad, langar (Community Kitchen), Bhandara free of cost without any discrimination to public and devotee by lessening their financial burden.

Beneficiaries:

Financial assistance is given to charitable/religious institutions (like Gurudwara, Temples, Dharmik Ashram, Mosques, Dargah, Church, Math, Monasteries etc) if they have been distributing free food in form of 'prasad', 'langar'/bhandara to at least 5000 persons in a calendar month for at least past 3 years.

Such institutions should be covered under Section 10 (23BBA) of Income Tax (IT) Act or as Public Trust under any law for time being in force of statuary religious bodies or institutions registered under Section 12AA of IT Act or are institutions registered as Society under Societies Registration Act (XXI of 1860).

Specific raw food items covered for GST reimbursement

: (i) Ghee (ii) Edible Oil (iii) Sugar/Burra/Jaggery (iv) Rice (v) Atta/Maida/Rava/Flour and (vi) Pulses.

Exemptions:

Financial Assistance will not be given to charitable/religious institutions that are receipt of any Financial Assistance from Central/State Government for purpose of distributing free food. It will be also not given to institution/organization blacklisted under provisions of Foreign Contribution Regulation Act (FCRA) or under provisions of any Act/Rules of Central/State.