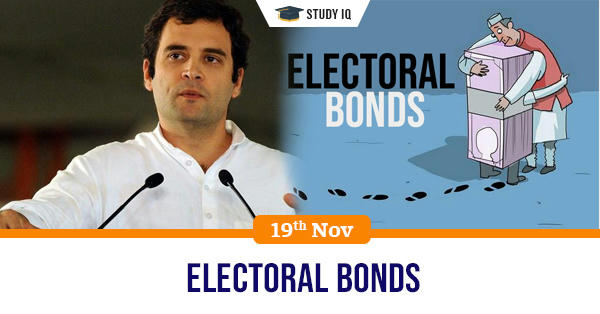 Electoral bonds
Date: 19 November 2019
Tags: Polity & Governance
Issue
Former Congress president Rahul Gandhi has accused the ruling party of ignoring the RBI fears regarding misuse of poll bonds, and allowed it to continue as a medium of black money generator for election funding.
Background
The Congress comments were in response to a media report that quoted communications between the RBI and the Ministry of Finance on electoral bonds.
Details
The RBI had said that the government's proposal to enable scheduled banks to issue electoral bonds would result in multiple, non-sovereign entities being authorised to issue bearer instruments, which goes against the RBI's sole authority to issue bearer instruments.

Bearer instruments have the potential to become currency and if issued in sizable quantities can undermine the faith in banknotes issued by the central bank.
Poll bonds
The Finance Bill, 2017, introduced "electoral bonds", that are interest free bearer bonds.

It is an instrument that is used to donate money to political parties. The parties involved will probably be a donor, the political party and the RBI, which acts as the intermediary.

Electoral bonds can be purchased from an authorized bank, issued to a political party and can be cashed in via the party's verified account within 15 days. The identity of the donor will be known only to the bank and otherwise be kept anonymous.

Donations will be tax deductible, and the benefitting political party will get a tax exemption for the amount received.

The bonds can be purchased only from the State Bank of India. They can be bought by a donor with a KYC-compliant account.

The bonds will be available for purchase only for a period of 10 days in the beginning of each quarter, in the months of January, April, July and October.

They can be bought for any value, in multiples of Rs 1,000, Rs 10,000, Rs 1 lakh, Rs 10 lakh or Rs 1 crore.