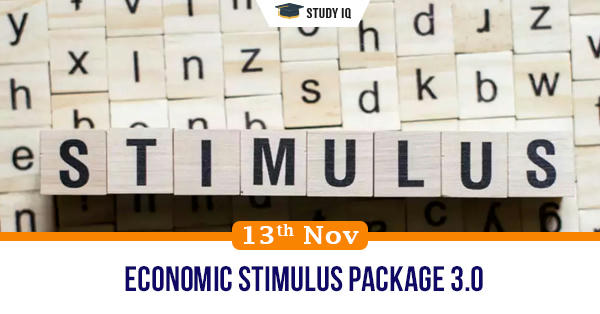 Economic stimulus package 3.0
Date: 13 November 2020
Tags: Miscellaneous
Issue
Finance minister Nirmala Sitharaman has announced a fiscal stimulus package to boost demand and help economy to recover from slowdown.
Details
A new 'Atmanirbhar Bharat Rozgar Yojana' to incentivize job creation. Beneficiaries under the new scheme include any new employee joining employment in EPFO registered establishments on monthly wages less than Rs 15,000.

Emergency Credit line Guarantee Scheme (ECLGS) has been extended till March 31, 2021. Also, tenor of credit under ECLGS 2.0 to be five years, including one year moratorium on principal repayment.

Rs 1.46 lakh crore boost manufacturing sector with production-linked incentive for 10 sectors such as mobile manufacturing, electronic components, and pharma.

Rs 18,000 crore additional outlay for PM Awaas Yojana (PMAY- Urban). This will help 12 lakh houses to be grounded and 18 lakhs to be completed.

Support for construction and infrastructure - relaxation of earnest money deposit (EMD) and performance security on government tenders. Performance security on contracts to be reduced to 3% instead of 5 to 10%.

Rs 6,000 crore equity infusion in National Infrastructure & Investment Fund (NIIF) debt platform by 2025.

Rs 900 crore provided for COVID Suraksha Mission for research and development of the Indian COVID vaccine to the Department of Biotechnology.

Rs 3,000 crores to be released to EXIM Bank for promotion of project exports through Lines of Credit under IDEAS Scheme.

Rs 65,000 crore to be provided for subsidised fertlisers. This will help 140 million farmers.
Economic stimulus
Economic stimulus is action by the government to encourage private sector economic activity by engaging in targeted, expansionary monetary or fiscal policy.

Economic stimulus is commonly employed during times of recession. Policy tools often used to implement economic stimulus include lowering interest rates, increasing government spending, and quantitative easing, to name a few.

The goal with economic stimulus is to achieve this stimulus-response effect so that the private sector economy can do most of the work to fight the recession and to avoid the various risks that might come with massive government deficits or extreme monetary policy.