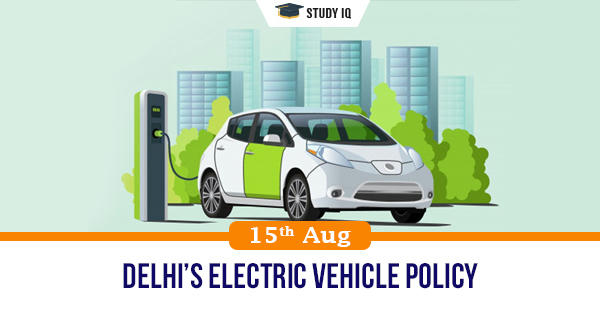 Delhi's electric vehicle policy
Date: 15 August 2020
Tags: Infrastructure
Issue
The Delhi Electric Vehicles Policy was notified on August 7, over eight months after the state Cabinet chaired by Chief Minister approved it.
Background
Delhi is among the world's most polluted cities, with its air quality turning particularly hazardous with the onset of winter.
Details
The gaseous pollutants from vehicular emissions are joined by soot-laden smoke from the fields of Punjab and Haryana where farmers set alight farm residue after harvesting. The bursting of firecrackers during Diwali also aggravates the problem.

The policy has been notified for a period of three years, following which it can be renewed in the present form or after suitable amendments.

The policy aims to make Delhi the Electric Vehicle (EV) capital of India. It has set an ambitious target of ensuring that by 2024, EVs account for 25% of all new vehicle registrations in the national capital.

Vehicles are the second largest and the most consistent source of pollution, contributing to about 25% of pollutants PM10 and PM2.5.

The Supreme Court-monitored Environment Pollution (Prevention and Control) Authority had also pointed out that industrial and vehicular pollution account for the greatest share of Nitrate particles formed from nitrogen oxides and sulphate particles formed from sulphur dioxides in the city.

Within the next one year, the Delhi government aims to induct at least 35,000 EVs across segments and the five-year plan envisages induction of 5 lakh EVs.

Over their lifetime, these EVs are estimated to avoid approximately Rs 6,000 crores in oil and liquid natural gas imports and 4.8 million tonnes of CO2 (carbon dioxide) emissions, which is equivalent to avoiding CO2 emissions from nearly 1 lakh petrol cars over their lifetime.

They will also help avoid about 159 tonnes of PM 2.5 (fine particulate matter) tailpipe emissions.

The policy is incentive-driven, which the government believes will encourage people to buy new EVs, scrap cars running on petrol and diesel. It has provisions for low-interest loans for battery-run commercial vehicles like buses and trucks.

The policy lays a particular emphasis in the category of two-wheelers, autos, and goods carriers and will, for the first time, allow ride-hailing services such as Ola and Uber and last-mile delivery platforms such as Zomato and Swiggy to operate battery-driven bikes.

The policy recommends changes in building bye-laws so that all new homes and workplaces are 'EV ready' with 20% of all vehicle holding capacity/parking equipped with charging points.

The purchase of charging points will also be incentivised to the tune of Rs 6,000 per charging point for the first 30,000 such points.

The policy refers to the 'feebate concept', which refers to the concept under which inefficient polluting vehicles incur a surcharge, while efficient ones receive a rebate.

It seeks to create an EV fund made up of pollution cess on, additional road tax on petrol and diesel vehicles, "especially luxury cars", congestion fee on rides taken using cab aggregators (except those running on batteries).

Every month, 50 per cent of the amount collected in that fund will be transferred to the EV fund. And if the government still falls short of money, the Supreme Court's assistance will be sought in using the Environment Compensation Charge fund, made up of tax imposed on commercial vehicles entering Delhi.