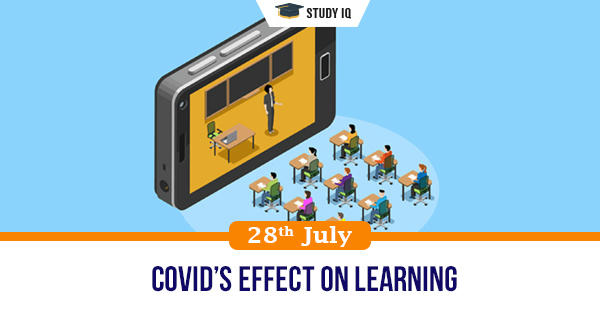 Covid's effect on learning
Date: 28 July 2020
Tags: Miscellaneous
Issue
The Covid-19 crisis is unprecedented. Time will tell what the implications of prolonged school closure will be on the learning status of children.
Details
From the first Annual Status of Education Report (ASER) in 2005 to ASER 2018, data provide estimates of children's basic learning levels for almost all rural districts of India.

These data show that while overall school enrolment levels have been well above 95% nationally for more than a decade, the proportion of girls (age group 15 to 16) still out of school has declined slowly 22.6% to 13.5% between 2006 and 2018.

These hard-won gains of enrolment and school completion must not get eroded due to the combination of schools being closed and economic hardships in the family related to Covid-19.

As far as attendance is concerned, in pre-COVID times, there was wide variation across the country, ranging from less than 60% of enrolled children present in school on any random day in states like Uttar Pradesh, Bihar, and Jharkhand to well over 85% attendance in Gujarat, Maharashtra, Karnataka, and Tamil Nadu.

As schools reopen, bringing every child back to school on a regular basis will be a big challenge, especially in states where normal attendance patterns are relatively low and variable.

Even before COVID hit us earlier this year, the wide diversity of learning levels has been a chronic problem of our classrooms for years.

The majority of children, especially in government schools, are several years behind grade level. When schools reopen it is likely that this variation of learning levels in each grade will have widened further; the lower end of the distribution will have become thicker.

There is not much research on "learning loss" in India. One possible recent source of data is available from Uttar Pradesh. In the 2018-19 school year, the UP government in partnership with Pratham conducted a foundational learning improvement intervention called Graded Learning Programme (GLP).

Given the sudden and prolonged school closure, there is a strong likelihood that learning loss will be deeper than the usual summer loss. Hence, the overall learning for the 2020-21 school year will depend very much on activities that are started and sustained after schools reopen.

A strong concerted effort on foundational skills — basic reading and arithmetic is needed as soon as schools open and attendance stabilises.

Helping children who have fallen behind to "catch up" is the single most important act for effectively addressing concerns about equity.