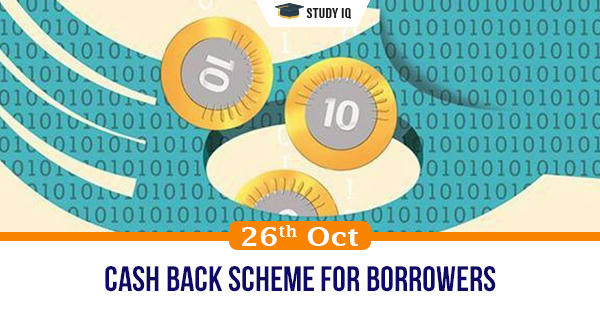 Cash back scheme for borrowers
Date: 26 October 2020
Tags: Miscellaneous
Issue
Lakhs of borrowers, irrespective of whether they availed of moratorium or not during lockdown, stand to get some cash back from the government.
Background
The cash-back is the difference between the compound interest and simple interest which are applicable to certain categories of borrowers, including housing, credit card, and MSMEs, for the period March 1, 2020 and August 31, 2020.
Details
A borrower with a Rs 50 lakh home loan outstanding, for example, will get a benefit of around Rs 12,425 in the form of savings on accounts of compound interest for a six months period, assuming the rate of interest at 8 percent.

At this rate, six months simple interest cost comes roughly to Rs 2 lakh, and along with the compound interest it becomes Rs 2,12,425 — with the government paying the difference of Rs 12,425.

The ex gratia payment under this scheme will be admissible irrespective of whether the borrower had fully availed or partially availed or not available of the moratorium on repayment. It is for those loan accounts which are standard and not non-performing assets (NPAs) as on February 29.

The compound interest waiver is for most of the loans — housing, MSME, education, consumer durable, credit card dues, automobile, consumption, and personal loans to professionals.

The waiver will be provided by all private and state-owned banks, cooperative banks, regional rural banks, housing finance companies, and non-banking financial institutions.

The rate of interest used to calculate the ex gratia amount will be based on the contracted rate specified for most loans.