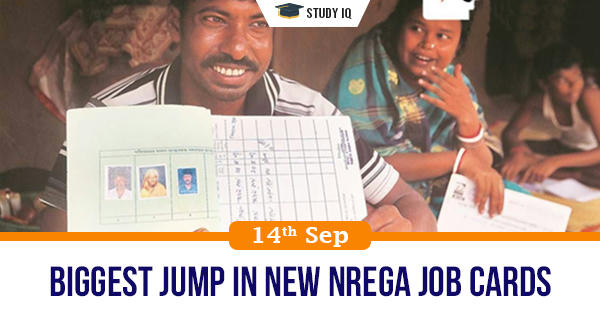 Biggest jump in new NREGA job cards
Date: 14 September 2020
Tags: Miscellaneous
Issue
This summer, the number of households enrolled under the Mahatma Gandhi National Employment Guarantee Scheme (MGNREGS) has soared to record levels.
Background
While the demand for unskilled work under NREGS had been steadily rising in recent years amid the economic slowdown, it soared to unprecedented levels during the pandemic.
Details
According to government estimates, more than 67 lakh migrants have returned to 116 districts across six states — Bihar, Uttar Pradesh, Madhya Pradesh, Rajasthan, Jharkhand, and Odisha — where the Centre had launched the Garib Kalyan Rojgar Abhiyan.

Data show 5.79 crore households availed NREGS between April 1 and September 10 during the current financial year, the highest since the scheme was launched on February 2, 2006.

Behind these numbers lie the story of how NREGA has emerged as a safety net for lakhs of households across the country at a time of deep social and economic distress amid the pandemic and the subsequent lockdowns.

An analysis of data for 690 districts shows that of the Top 10 districts that saw an increase of over 1 lakh in the number of households that availed NREGA this year in June.

The unprecedented demand in NREGA across India has led to the utilisation of 67 percent of the entire fiscal's labour budget of Rs 292.79 crore with half the financial year still left.

While NREGA has served to provide jobs, the implementation of the scheme faces several challenges.

For instance, despite a hike of NREGS wage across states, there have been complaints of workers not being paid the notified rate in several states.

Besides, there is worry that the quota of 100 days of employment in a financial year that the job scheme guarantees will fast run out, leaving many families with little security in the remaining months of the year.