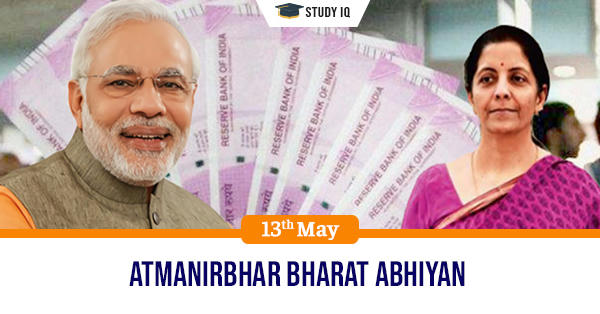 Atmanirbhar Bharat Abhiyan
Date: 13 May 2020
Tags: Polity & Governance
Issue
In his fifth address to the nation, Prime Minister Narendra Modi announced an economic package totaling Rs 20 lakh crore to tide over the Covid-19 crisis under 'Atmanirbhar Bharat Abhiyan'.
Details
The Rs 20 lakh crore package includes the government's recent announcements on supporting key sectors and measures by Reserve Bank of India. PM Modi said the economic package would be around the 10 percent of the GDP.

PM Modi said it would benefit laborers, farmers, honest taxpayers, MSMEs and cottage industry. The special economic package would focus on land, labor, liquidity and laws.

The prime minister said the goal of the country would be to become self-reliant, and identified economy and infrastructure as key drivers for it. He said making the country self-reliant was only way to make 21st century belong to India.

Self-reliance will prepare the country for tough competition in the global supply chain, and it is important that the country wins this competition. It will not only increase efficiency in various sectors but also ensure quality.

India's self-reliance will be based on five pillars — economy, infrastructure, technology driven system, vibrant demography and demand.

The prime minister also urged the people to buy and promote local products and brands. He urged the people to be 'vocal for the local'.