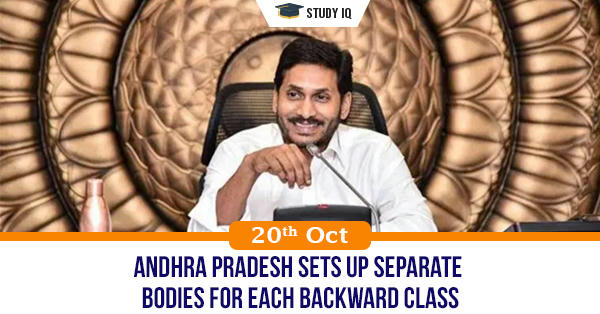 Andhra Pradesh sets up separate bodies for each backward class
Date: 20 October 2020
Tags: Miscellaneous
Issue
The Andhra Pradesh government has set up separate corporations for 56 major castes under the Backward Classes category.
Background
During Y S Jagan Mohan Reddy's padayatra before the elections, he received several complaints from people belonging to several backward castes that benefits and schemes of the government were not reaching them properly.
Details
The government will set up separate corporations for BC castes which have a population of more than 30,000 so that each corporation can micro manage a particular caste's people and their needs.

These corporations will receive funding from the government which will be used to deliver government's schemes and benefits to the beneficiaries.

This is the first time that separate corporations have been set up for various sub-castes under Backward Classes.

Earlier, a BC Welfare Corporation catered to the needs of all the 139 sub-castes listed under the Backward Classes. There were separate caste-based cooperative federations.

The setting up of the corporations fulfils the poll promise as well as empowers backward classes leaders by appointing one chairperson and 12 directors to each corporation.

The chairperson and 12 directors would each represent the 13 districts in the state whose job is to identify the eligible beneficiaries of a particular sub-caste under a corporation and ensure that the welfare is directed at them.

According to recent government surveys, about 49.55 percent of the population comes under Backward Classes in Andhra. There are 139 sub-castes covering a range of communities which are divided into A, B, C, D, and E categories.