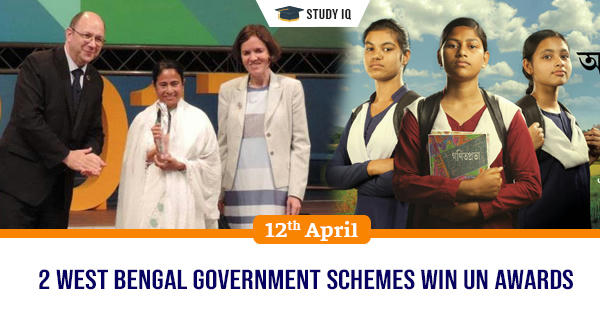 2 West Bengal Government schemes win UN awards
Date: 12 April 2019
Tags: Education
Two schemes of West Bengal Government Utkarsh Bangla and Sabuj Sathi have won prestigious World Summit on the Information Society (WSIS) awards of the United Nations. They were selected out of 1,062 nominations and they also topped list in their respective categories.
Utkarsh Bangla received topmost award and emerged winner in the Capacity Building category. Sabuj Sathi was ranked in first five as champion project under the ICT application: E-Government category.
Utkarsh Bangla
Under it, skill development training is given to school dropout youths. For this several centres have been opened across the state for imparting skill training in driving, tailoring, television repairing and other electronic equipment. The trained youths are then absorbed in different industries.
Sabuj Sathi
It was launched in 2015. Under it, bicycles are distributed to the students of class IX to XII studying in Government run and Government aided schools and madrashas.
World Summit on the Information Society (WSIS)
It is world's largest annual gathering of Information Communication Technology (ICT) for development community.

It is co-organized by International Telecommunication Union (ITU), United Nations Conference on Trade and Development (UNCTAD), UN Educational, Scientific and Cultural Organization (UNESCO) and UN Development Programme (UNDP).

It provides platform for information exchange, knowledge creation and sharing of best practices, identifying emerging trends and fostering partnerships, taking into account evolving Information and Knowledge Societies.

2019 WSIS Forum

: It was held in Geneva, Switzerland was 10th edition. Its theme was "Information and Communication Technologies for achieving the Sustainable Development Goals".

WSIS Awards:

It aims to create effective mechanism to evaluate and recognize individuals, governments, civil society, local, regional and international agencies, research institutions and private-sector companies for outstanding success in implementing development oriented strategies that leverage the power of ICTs as enabler of development.