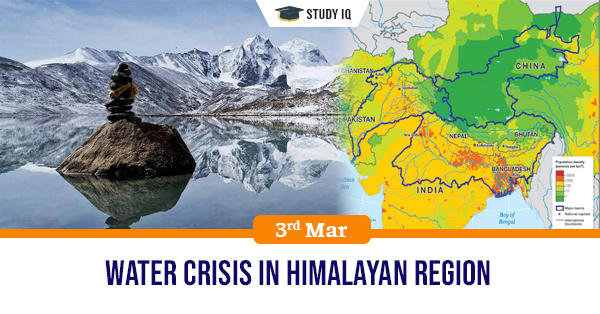 Water crisis in Himalayan region
Date: 03 March 2020
Tags: Climate Change
Issue
Eight towns in the Himalayan region of Bangladesh, Nepal, India and Pakistan were nearly 20%-70% deficient in their water supply, according to a survey that appears in the latest edition of the journal Water Policy.
Background
The researchers surveyed 13 towns across these countries to understand the challenges of the urban denizens of these regions. Unplanned urbanisation and climate change are the key factors responsible for the state of affairs, the study says.
Details
Most of the community's water sources are from springs and the springs are on the decline because of the complex combination of climatic and non-climatic factors.

Ten of Asia's largest rivers originate in the Hindu Kush Himalaya stretch of mountain ranges running from Afghanistan in the west to China in the east. Yet, the gap between demand and supply of water here may double by 2050.

The places surveyed are extremely dependent on springs (ranging between 50% and 100%) for their water, and three-fourths were in urban areas. Under current trends, the demand-supply gap may double by 2050.

Communities were coping through short-term strategies such as groundwater extraction, which is proving to be unsustainable. A holistic water management approach that includes springshed management and planned adaptation is therefore paramount.

Across the region, the encroachment and degradation of natural water bodies (springs, ponds, lakes, canals, and rivers) and the growing disappearance of traditional water systems (stone spouts, wells, and local water tanks) are visible.

One of the studies that makes the same point about rapid urbanisation, blames poor water governance, lack of planning, poor tourism management during peak season as well as climate breakdown for the water stress.

Of India's 12 Himalayan states, Assam, Mizoram and the Union Territories of Jammu and Kashmir and Ladakh are the most vulnerable to climate change.