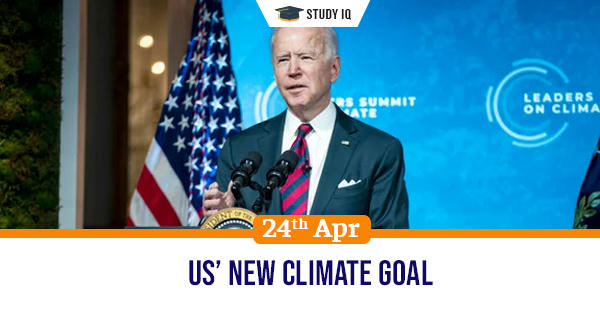 US' new climate goal
Date: 24 April 2021
Tags: Climate Change
Issue
US President Joe Biden has announced that US would cut its greenhouse gas emissions by 50 per cent to 52 per cent by 2030
Background
The cuts announced by the second largest emitter is comparatively smaller in comparison to those announced by Europeans but still it is larger near time goal.
Details
The US has selected the base year for calculation as 2005, the year in which its fossil fuel emissions reached the peak.

European countries have selected year to 1990, when carbon emissions were starting to fall due to failing polluting communist economies.

The selection of base year is significant as US's pledge is easier due to already existing higher carbon levels and the cuts would not be large.

The European targets on the other hand are more ambitious as they will have to cut emissions on a larger scale.

Other countries such as Canada and Japan have pledged to cut carbon emissions 45 percent and 40 percent respectively below 2005 level.
US actions to meet demands
The US has to adopt sweeping changes such as installing wind and solar power, persuading citizens to buy electric cars and forcing gas companies to slash emissions of methane.
Global requirement
The world has to achieve zero emission goals by mid 21st century if risks of climate change such as melting of polar ice caps, failure of crops etc have to be controlled.

US and European Union only form one-quarter of global greenhouse gas emissions. Countries such as China and India are emitting more carbon which is not going to reduce soon.

The largest emitter China has pledged to become carbon neutral by 2060 by taking some strong actions such as planting vast new forests, cutting the use of hydro-fluorocarbons and generating electricity from sources such as solar, wind and hydropower.
India's commitments
India has not declared a date for its peak in emissions but has announced measures to increase renewable sources such as solar power.

India says that they are still poor and it is unfair to compare them with countries such as United States or United Kingdom.

There are demands that US announce far bigger targets to achieve lower emissions so that countries such as India get more time to transition from fossil fuels.