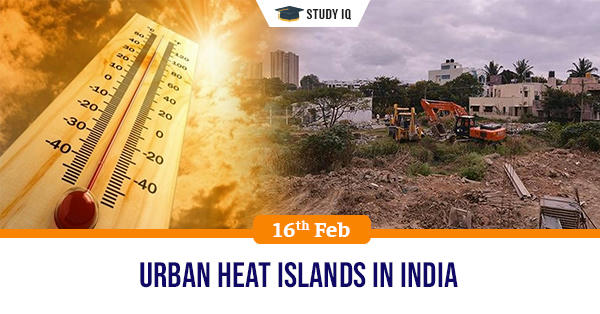 Urban Heat Islands in India
Date: 16 February 2020
Tags: Climate Change
Issue
A recent study from IIT Kharagpur called "Anthropogenic forcing exacerbating the urban heat islands in India" noted that the relatively warmer temperature in urban areas, compared to suburbs, may contain potential health hazards due to heat waves apart from pollution.
Background
An Urban Heat Island (abbreviated as UHI) is where the temperature in a densely populated city is as much as 2 degrees higher than suburban or rural areas.
Details
The researchers focused on studying the difference between urban and surrounding rural land surface temperatures, across all seasons in 44 major cities from 2001 to 2017.

They found evidence of mean daytime temperature of surface urban heat island (UHI Intensity) going up to 2 degrees C for most cities, as analysed from satellite temperature measurements in monsoon and post monsoon periods.
Reasons for heat islands
The materials used for pavements, roads and roofs, such as concrete, asphalt (tar) and bricks, which are opaque, do not transmit light, but have higher heat capacity and thermal conductivity.

Trees and plants are characterised by their 'evapotranspiration', where there is a continuous water circulation cycle between environment and the plants, leading to moisture movement and heat reduction.

The lack of such evapotranspiration in the city leads to the city experiencing higher temperature than its surroundings.
Impact of Urban Heat Islands (UHI)
UHI s also decrease air quality in the cities, thanks to pollution generated by industrial and automobile exhaust, higher extent of particulate matter and greater amounts of dust than in rural areas.

Cities tend to experience heat waves which affect human and animal health, leading to heat cramps, sleep deprivation and increased mortality rates.

UHIs also impact nearby water bodies, as warmer water (thanks to the pavements, rooftops and so on) is transferred from the city to drains in sewers, and released into nearby lakes and creeks, thus impairing their water quality.
Tackling UHI
Use greener rooftops, using light-coloured concrete (using limestone aggregates along with asphalt (or tar) making the road surface greyish or even pinkish.

These are 50% better than black, since they absorb less heat and reflect more sunlight. Likewise, we should paint rooftops green, and install solar panels there amidst a green background.

The other is to plant as many trees and plants as possible. They can absorb excessive heat, retain water moisture and reduce temperature of an area significantly.