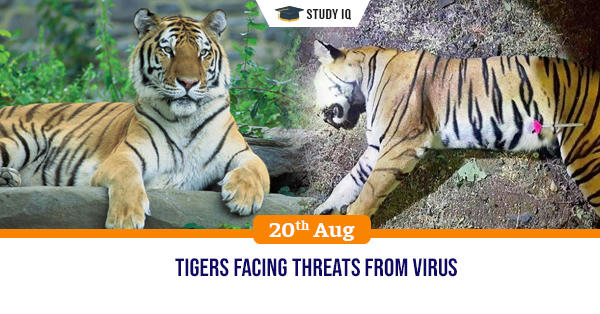 Tigers facing threats from virus
Date: 20 August 2019
Tags: Biodiversity
Issue
Tigers in Indian forests are acing threats from viruses like Canine Distemper that are threatening their survival and numbers.
Background
Last year, over 20 lions from the Gir forest succumbed to the viral infection and now a guideline has been prepared by the National Tiger Conservation Authority to prevent the spreading of the disease to wild animals.
Details
A recent study published in Threatened Taxa notes that 86% of the tested dogs around Ranthambhore National Park in Rajasthan carried CDV antibodies in their bloodstream.
The study was done around the Ranthambhore National Park and collected blood samples from over 100 dogs. The results showed that 86% of the studied dogs had CDV antibodies in their blood.

These dogs wander into the forest along with the humans, and there have been cases where leopard have hunted these dogs and thus there are chances of leopards getting infected. Studies have shown that small, isolated wildlife populations are more susceptible and when the virus transmits from one species to another the disease impact is worse.

This finding points out that there is an increased risk of disease transfer from the dogs to tigers and leopards that live in the park.
Measures to handle threat
The main aim should be to vaccinate the free-ranging and domestic dogs in the area around national parks. A lot of NGOs have started started animal birth control program to control population of dogs near protected areas.
Other threats for Tigers
The loss of habitat, decline of prey and poaching continues to be a threat to tigers' survival.