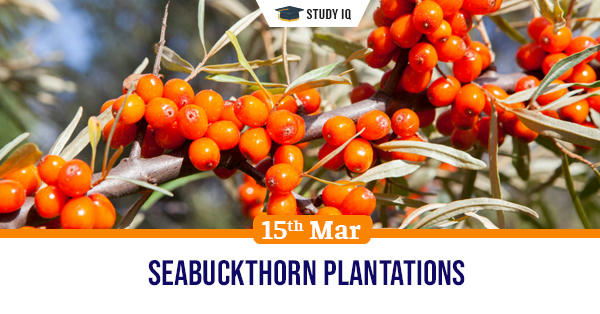 Seabuckthorn plantations
Date: 15 March 2021
Tags: Climate Change
Issue
The Himachal Pradesh government is planning to plant large number of seabuckthorn plants in cold areas of the state.
Details
Seabuckthorn is a shrub which gives an orange-yellow coloured edible berry. The plant is found above the tree line in the Himalayan region.

It is naturally found in cold desert areas such as Spiti and Ladakh. It is locally known as Chharma in Himachal Pradesh.

States such as Himachal, UT of Ladakh, Uttarakhand, Sikkim and Arunachal Pradesh support this plant species.
Benefits
Seabuckthorn is a part of traditional medicine and is widely used for treating stomach, heart and skin problems.

The fruit and leaves are rich in vitamins, carotenoids and omega fatty acids. The fruit can help troops in adjusting to high-altitude areas.

In addition to being a source of fodder and fuelwood, the plant prevents soil-erosion, controls siltation in rivers and helps preserve biodiversity of plants.

There are other commercial uses of Seabuckthorn such as making juices, jams, nutritional capsules etc.
The project
The crop association wants various Himalayan states/UTs to use compensatory afforestation or CAMPA funds to plant seabuckthorn on arid and marginal lands.

The environment ministry has asked state governments to prepare a plan for the project in light of reduction of water flow from Himalayan glaciers and its impact on ecology.