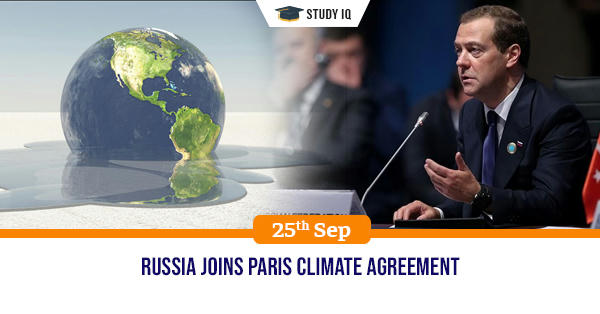 Russia joins Paris climate agreement
Date: 25 September 2019
Tags: Climate Change
Issue
Russia has said it would implement the 2015 Paris Agreement to fight climate change after Prime Minister Dmitry Medvedev approved a government resolution that signifies Moscow's final acceptance of the deal.
Background
Russia is the world's fourth largest emitter of greenhouse gases and the biggest emitter not to have ratified the landmark global climate deal. Russia said it did not need to ratify the agreement because it had already undertaken to honour its commitments when it signed the deal in April 2016.
Details
The resolution said that Russia would not technically ratify the accord due to a legal nuance and said Moscow would adapt the accord to existing legal norms and it was unclear if there were any legal implications of failing to technically ratify the pact.

The Russian government is currently reviewing a law to regulate greenhouse gas emissions, along with two national plans for low-carbon development and adaptation.

The country's announcement means that there are now eleven countries yet to formally ratify the Agreement. These are Angola, Eritrea, Iran, Iraq, Kyrgyzstan, Lebanon, Libya, Oman, South Sudan, Suriname, and Yemen.
Paris Agreement
The Paris Agreement is an agreement within the United Nations Framework Convention on Climate Change, dealing with greenhouse-gas-emissions mitigation, adaptation, and finance, signed in 2016.

Highlights

Holding the increase in the global average temperature to well below 2°C above pre-industrial levels and to pursue efforts to limit the temperature increase to 1.5°C above pre-industrial levels.

The agreement requires all countries to submit updated plans that would increase the stringency of regulating emissions by 2020.

The deal requires countries to monitor, verify and report their greenhouse gas emissions using the same global system.

Calls on nations to establish a new collective quantified goal of at least $100 billion a year in climate-related financing by 2020.