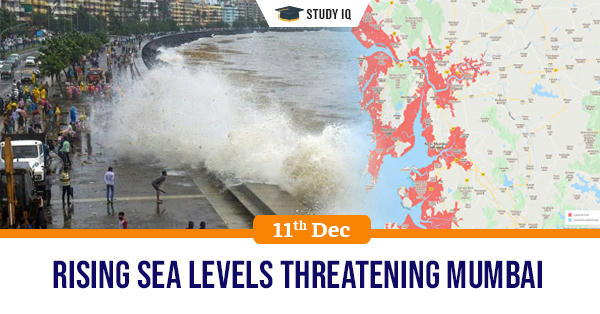 Rising sea levels threatening Mumbai
Date: 11 December 2019
Tags: Climate Change
Issue
The journal Nature had published an important paper identifying the dangers climate change poses specifically to Mumbai and other coastal cities.
Background
The research indicates that anthropogenic climate change will inundate significant sections of Mumbai by 2050. Unless the city takes significant action in the next three decades, the sea will reclaim much of the landfill that the city has been built on.
Details
Together with Guangzhou, Jakarta, Miami, and Manila, Mumbai now regularly appears on a list of cities endangered by climate change.

As the cyclones battering coastlines near Mumbai and unseasonal, heavy rains indicate, climate change is not some event in the distant future.

Recent studies, published by the Intergovernmental Panel on Climate Change (IPCC) indicate that its effects are more intensive than earlier models predicted.

Sea levels are rising significantly faster than were previously estimated. The Special Report on the Ocean and Cryosphere in a Changing Climate indicates that sea levels are significantly higher than were originally anticipated, and as such will have significant impacts on cities like Mumbai.

The IPCC report warns Mumbai's planners and administrators and states that in the absence of adaptation, more intense and frequent extreme sea level events, together with trends in coastal development will increase expected annual flood damages.

The rate of sea level rise has more than doubled in India in just over a decade in line with global rates. Research has shown that sea level rise has increased to 3.2 mm/year in the period 1993-2012.
Way ahead
Mumbai is in the midst of a climate emergency. This emergency requires city administrators to rethink how Mumbai may be remade in and with rising waters.

These unprecedented times demand new imaginaries, designs, plans, and infrastructures and not old techniques which have failed big time.