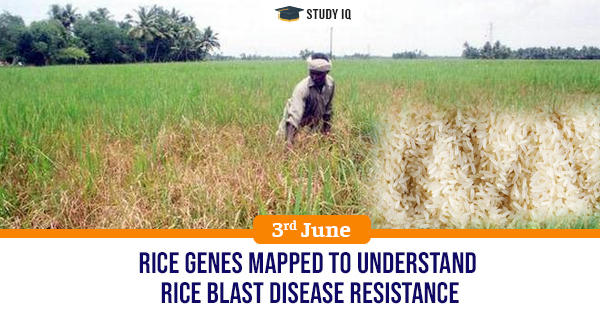 Rice Genes mapped to understand rice blast disease resistance
Date: 03 June 2019
Tags: Biodiversity
Researchers from ICAR-National Rice Research Institute (NRRI), Odisha have mapped out diverse genes in rice to understand disease resistance that lead to rice blast disease. They had characterized over 150 rice varieties from nine States across the country. They also have identified new markers associated with blast resistance.
Need for such research
Rice blast causes economically significant crop losses annually. Each year, it destroys enough rice to feed more than 60 million people. Fungicides are very expensive, harmful for environment and inappropriate application can cause health issues. So researchers across globe are researching to find out resistant (R) genes against pathogen. So far, more than 100 R genes in rice genome have been identified. Seven blast endemics have occurred in India from 1980-1987 that has caused severe economic losses.
Rice Blast Disease
It is caused by plant pathogenic fungus Magnaporthe oryzae. It is one of the major diseases of the rice crop because of its extensive distribution and destructiveness under favourable conditions.

It can affect most of the rice plant with the exception of the roots. It can infect plants at any growth stage. It has been found in more than 85 countries across the world

Symptoms:

It includes lesions or spots on leaves, steam and other parts. The shape, colour and size of this pathogenic fungus vary depending on varietal resistance, environmental conditions and the age of the lesions.

Control Measures:

The most effective way control the infection is integrated management. It will avoid overuse of single control method and fight against genetic resistance.

Threat:

The rapid changes in pathogen virulence of this pathogenic fungus poses constant challenge to success of existing blast-resistant rice varieties.