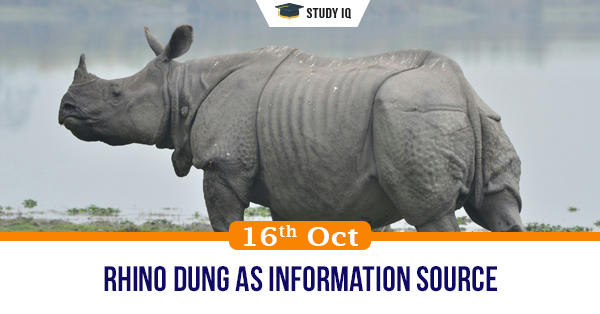 Rhino dung as information source
Date: 16 October 2020
Tags: Biodiversity
Issue
In conservation efforts for the greater one-horned rhinoceros population in India, the latest strategy is an examination of rhino dung to understand health issues of the animal.
Background
Since 2017, the Rhino Task Force of Assam and World Wildlife Fund India (WWF India) have been undertaking steps to study pathogens found in fresh rhino dung samples in Assam, Uttar Pradesh, and West Bengal.
Details
While poaching is believed to be the main cause of death in rhinos, rhinos also die of natural causes which have not been studied in great detail.

Due to increasing livestock pressure on protected areas, there is a possible threat of pathogens getting transferred from domestic animals to wild animals.

Diseases linked to habitat degradation are invisible causes of rhino death. For example, a rhino might not get its regular feed, compelling it to instead feed on weeds etc. This may cause problem in their health.

In order to address this knowledge gap, the present study is a part of a series that involves screening of pathogens through a non-invasive method of dung sample analysis.

Samples were collected from UP's Dudhwa National Park; West Bengal's Jaldapara National Park and Gorumara National Park; and Assam's Rajiv Gandhi Orang National Park, Pobitora Wildlife Sanctuary, Manas National Park, and Kaziranga National Park.
From the samples from Assam and West Bengal, the study concluded that parasites from four genera were present in an estimated 68% of India's rhino population.

When comparing Bengal study with that conducted in Assam, they found that the rhino population in West Bengal has a higher prevalence rate of infection, but the occurrence of different parasites were higher in Assam.