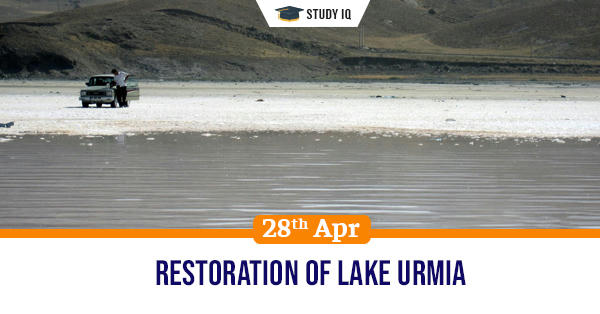 Restoration of Lake Urmia
Date: 28 April 2021
Tags: Climate Change
Issue
Scientists and water experts from US and Iran are collaborating on a study to restore Lake Urmia of Iran.
Background
Lake Urmia is a massive saline water lake present in Iran that is currently facing destruction due to decreasing water levels.
Details
The lake has lost about 95 percent of its initial volume over last couple of decades. Decreasing water will increase salinity.

Increased salinity is threatening to the lake's brine shrimp population and also birds such as flamingos that are dependent on shrimp for food.

The falling water levels have created land bridges that act as roads for mainland predators to threaten endangered mammal species living in lake islands.

The dry lake bed acts as a source of dust that affects large number of residents living in the basin areas of the lake.
Study on lake
The team collected data from 40 years to identify eight metrics that defines the health of the lake and its ecosystems.

The lake's ecosystem services are interconnected and the varying levels of water will have effects on lake systems over time.
Lake Urmia
Lake Urmia is a saline lake in north-western Iran that is the largest lake in the Middle East.

The lake is remarkable for the extreme salinity of its waters. Since 1967 it has enjoyed the status of a wetland protected region.

The main rivers flowing into the lake are the Talkheh (?j?) River in the northeast and the twin rivers Zar?neh (Jag?tu) and S?m?neh (Tatavi) in the south.