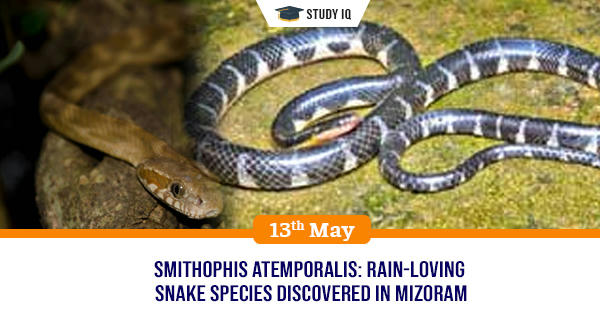 Smithophis Atemporalis: Rain-Loving Snake Species Discovered In Mizoram
Date: 13 May 2019
Tags: Biodiversity
Herpetologists have discovered new 'Rain-loving' snake species named Smithophis atemporalis in Mizoram. Its common name is Mizo rain snake and locally is called Ruahlawmrul or rain-loving snake.
About Mizo rain snake
It has been named Smithophis atemporalis (scientific name) after eminent British herpetologist Malcolm Arthur Smith for his immense contribution to Indian herpetology.

It belongs to new genus-Smithophis and species of the natricine. It took seven-member team of herpetologists 12 years to document it.

It is a predominantly aquatic species and is a non-venomous snake. It is commonly seen in human dominated landscapes after rains.

Its maximum recorded size is 655 mm. It lacks specific enlarged scales in temporal region of its head. This character is extremely rare in snakes of this snake family.
Note: It is the latest reptile to be discovered in the Northeast in recent time. It comes after most recent discovery of reddish-brown pit viper in Arunachal Pradesh. Earlier in December 2018, Crying Keelback, a non-venomous snake species was discovered in Arunachal Pradesh's Lepa-Rada district.