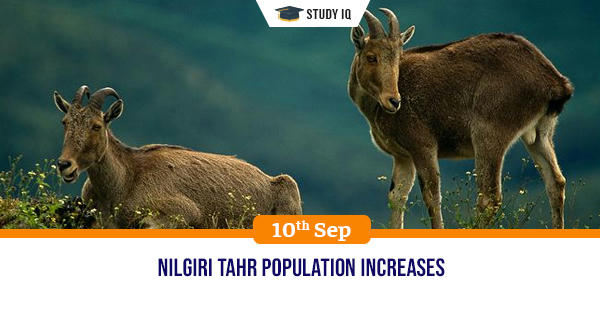 Nilgiri Tahr population increases
Date: 10 September 2019
Tags: Biodiversity
Issue
The Nilgiri tahr's sightings in the Mukurthi National Park have risen from 568 in 2018 to 612 this year. The population has risen by 132 which is 27% increase from 2016.
Background
The Nilgiri tahr (Nilgiritragus hylocrius) known locally as the Nilgiri ibex or simply ibex, is a mammal that is endemic to the Nilgiri Hills and the southern portion of the Western Ghats in the states of Tamil Nadu and Kerala in Southern India. It is the state animal of Tamil Nadu.
Conservation status
Nilgiri Tahr is protected under schedule 1 of Wildlife Protection Act 1972.

It is categorised as 'Endangered' under IUCN red list.
Details
The 27% increase in the population of the tahr in the Nilgiris over the last three years showed that current conservation policies which is keeping the national park closed to tourists and free from poaching and fighting the spread of invasive flora , were bringing the desired results in terms of maintaining a healthy population of the tahr.

Efforts were being made to ensure that the 78-sq.km reserve, closed to tourists, remained relatively free of some of the species , such as Scotch broom and gorse .

The move of preventing invasive species have ensured that the tahr have plenty of food and more room for the population to grow in the coming years.

The habitat is linked with the Silent Valley National Park and the Mannarrkad forest division in Kerala, meaning they have a large habitat where they can keep expanding into