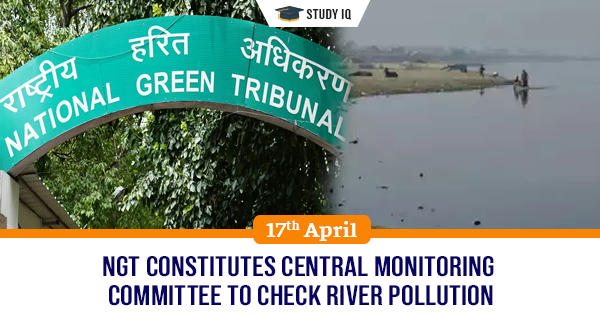 NGT constitutes Central Monitoring Committee to check river pollution
Date: 17 April 2019
Tags: Biodiversity
National Green Tribunal (NGT) has formed Central Monitoring Committee to prepare and enforce national plan to make over 350 river stretches across the country pollution free.
Central Monitoring Committee
Objective of committee: It will monitor pollution of rivers and coordinate with River Rejuvenation Committees of states. It will also oversee execution of action plans, taking into account timelines, budgetary mechanism and other factors. It may also consider identifying experts, best practices and models for use of treated water, including plan to supply untreated sewage for price or otherwise so that the concerned needy party can treat and utilise such water.
Composition of committee: It will comprise representative of NITI Aayog, secretaries of Union Ministries of Water Resources, Urban Development and Environment, Director General (DG) of National Mission for Clean Ganga and Chairman of the Central Pollution Control Board (CPCB). Chairman of CPCB will be nodal authority for coordination of this committee. Chief secretaries of states will act as nodal officers at state level.
National Green Tribunal
It is quasi-judicial body established under National Green Tribunal Act 2010 for effective and expeditious disposal of cases (litigations) related to protection pf environment and conservation of forests and other natural resources.