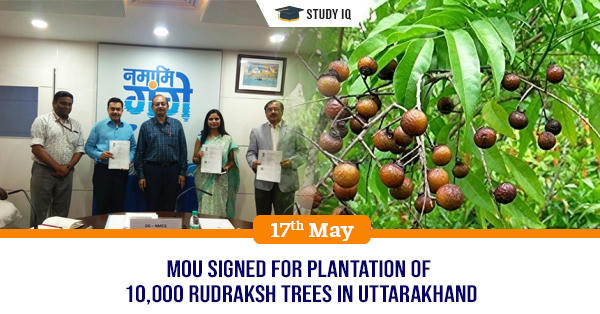 MoU signed for Plantation of 10,000 Rudraksh Trees in Uttarakhand
Date: 17 May 2019
Tags: Forests
National Mission for Clean Ganga has signed Memorandum of Understanding (MoU) with HCL Foundation and INTACH to plant 10000 Rudraksh Trees along Ganga Basin in Uttarakhand. Its objective is to create greener ecosystem in Ganga Basin by undertaking plantation project of Rudraksh Trees in Uttrakhand in association with the local community.
About Plantation Project
It is Corporate Social Responsibility (CSR) initiative under Namani Gange Programme which is aimed providng inclusive and sustainable solutions for cleaner ecosystem along Ganga river.

It aims at planting 10,000 Rudraksh trees along Ganga Basin area in Uttarakhand in association with the local community.

It also seeks to address the issue of unemployment by employing local people for plantation drive.
Rudraksh Tree
It is a large evergreen tree. Its scientific name is Elaeocarpus ganitrus. It has broad-leaves and its seeds are known as Rudraksh. It is mainly found in Gangetic plain, foothills of Himalyas, Nepal, Indonesia etc. Its seed are traditionally used for prayer beads in Hinduism and Buddhism. It develops the fruit in three to four years.