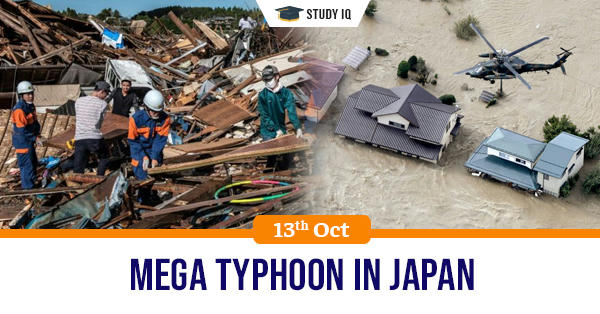 Mega typhoon in Japan
Date: 13 October 2019
Tags: Disaster & Disaster Management
Issue
Japan is facing one of the worst typhoons in 6 decades, called as Hagibis. It is predicted that this storm will be destructive enough to cause large scale damage in Japan.
Background
The storm has brought heavy rainfall in wide areas of Japan ahead of its landfall, including the capital Tokyo. This incident is bound to cause power outages and damage homes and infrastructure.
Details
Typhoons
A typhoon is a mature tropical cyclone that develops between 180° and 100°E in the Northern Hemisphere.

This region is referred to as the North western Pacific Basin, and is the most active tropical cyclone basin on Earth, accounting for almost one-third of the world's annual tropical cyclones.
Tropical cyclones across the globe
Bay of Bengal and Indian ocean: Cyclone

Caribbean and US: Hurricane

Pacific Ocean and South China Sea: Typhoon

Australia: Willy Willy
Reasons for tropical cyclones
There are six main requirements for tropical cyclogenesis: sufficiently warm sea surface temperatures, atmospheric instability, high humidity in the lower to middle levels of the troposphere, enough Coriolis force to develop a low pressure center, a pre-existing low level focus or disturbance, and low vertical wind shear.

Normally, an ocean temperature of 26.5 °C spanning through a depth of at least 50m is considered the minimum to maintain the special mesocyclone that is the tropical cyclone. These warm waters are needed to maintain the warm core that fuels tropical systems.

A minimum distance of 500 km (300 mi) from the equator is normally needed for tropical cyclogenesis. Whether it is a depression in the Intertropical Convergence Zone (ITCZ) or monsoon trough, a broad surface front is required to begin tropical cyclogenesis.

Even with perfect upper level conditions and the required atmospheric instability, the lack of a surface focus will prevent the development of organized convection and a surface low.

Vertical wind shear of less than 10 m/s between the ocean surface and the tropopause is required for tropical cyclone development. Typically with Pacific typhoons, there are two outflow jets: one to the north ahead of an upper trough in the Westerlies, and a second towards the equator that can make cyclone formation possible.