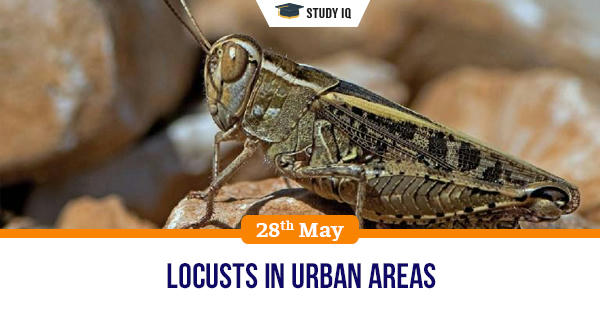 Locusts in urban areas
Date: 28 May 2020
Tags: Climate Change
Issue
Over the last few days, swarms of locusts have been sighted in urban areas of Rajasthan, which is unusual. Swarms have also been reported from parts of Madhya Pradesh and Vidharbha region of Maharashtra.
Background
The first swarms were sighted along the India-Pakistan border on April 11, months ahead of the usual time of arrival.
Details
The desert locust (Schistocerca gregaria) is a short-horned grasshopper. They form huge swarms that can travel up to 150 km per day, eating up every bit of greenery on their way. These insects feed on a large variety of crops.

If not controlled, locust swarms can threaten the food security of a country. At present countries in the Horn of Africa such as Ethiopia and Somalia are witnessing one of the worst locusts attacks in the last 25 years.

In India, locusts are normally sighted during July- October along the Pakistan border. Last year, parts of Western Rajasthan and Northern Gujarat reported swarms that caused damage to growing rabi crops.

Locusts are being seen in areas not historically associated with such sightings — Jaipur, MP's Gwalior, Morena and Sheopur, and recently stray swarms in Maharashtra's Amravati, Nagpur and Wardha.

Their early arrival can be traced back to the cyclonic storms Mekunu and Luban that had struck Oman and Yemen respectively in 2018. These turned large deserts tracts into lakes, facilitating locust breeding that continued through 2019.

The locusts will start laying eggs after the monsoon starts and continue breeding for two more months, with newer generations rising during the growth phase of the kharif crop. Control involves spraying insecticide on locusts' night resting places like trees.