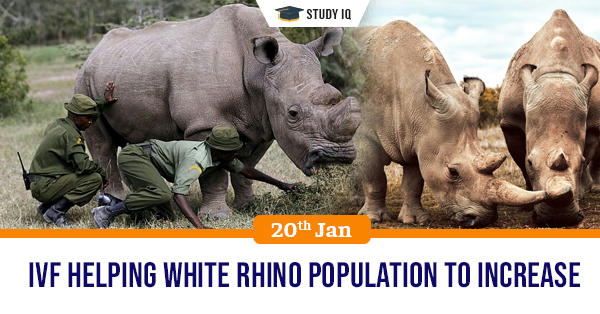 IVF helping white rhino population to increase
Date: 20 January 2020
Tags: Biodiversity
Issue
Researchers said that they have created another embryo of the nearly extinct northern white rhino, a remarkable success in an ongoing global mission to keep the species from going extinct.
Background
The Kenyan conservancy looking after the last male northern white rhino was forced to euthanise it in March 2018. The death of Sudan, who was earlier at the Dvur Králové Zoo in the Czech Republic, left the world with only two northern white rhinos.
Details
The northern white is one of the two subspecies of the white (or square-lipped) rhinoceros, which once roamed several African countries south of the Sahara.

The other subspecies, the southern white is, by contrast, the most numerous subspecies of rhino, and is found primarily in South Africa.

Scientists created a test-tube embryo by fertilising the egg of a southern white female with the frozen sperm of a northern white male.

The embryos have been preserved in liquid nitrogen, and will be transferred to a southern white surrogate.

Since the gestation period for a rhino could be 18 months, the first northern white calf is expected to arrive in the world in 2022.

The ultimate goal, scientists say, is to create a herd of perhaps five northern white rhinos that could be returned to the wild.
Indian Rhinoceros
The Indian rhinoceros, also called the greater one-horned rhinoceros and great Indian rhinoceros, is a rhinoceros species native to the Indian subcontinent. It is listed as Vulnerable on the IUCN Red List.
They can be found in:
Kaziranga National Park

Jaldapara National Park

Pobitora Wildlife Sanctuary

Orang National Park

Gorumara

Dudhwa National Park

Manas National Park

Katarniaghat Wildlife Sanctuary